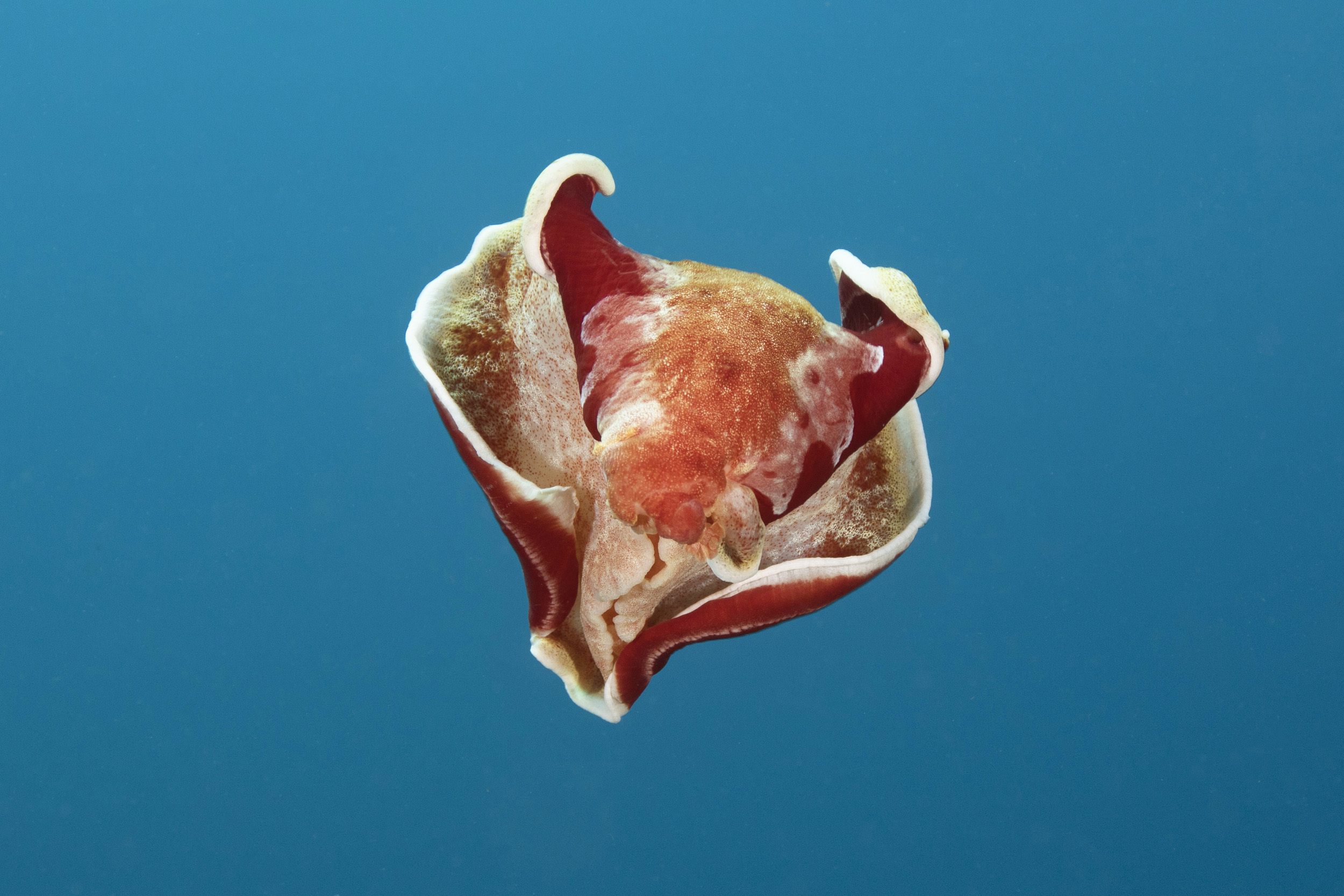 SPANISH DANCER NUDIBRANCH AT EITHER CHOCOLATE OR GATO ISLAND OFF MALAPASCUA IN THE PHILIPPINES, MAY 2017

[We did the thresher shark dive at 5 a.m. that day. Malapascua is the only place in the world where one is practically guaranteed to
see threshers at a certain spot first thing in the morning. After sharks, we rested and then had a leisurely dive during which the guide
found this beautiful Spanish Dancer…]

In this shot it looks a bit like an alien! Every position a Spanish Dancer takes while undulating in the water is completely
different to the others, every form it makes beautiful. It flows in the water like a veil in the wind.

Spanish dancers are nocturnal, but our guide found this one during daylight hours — and showed us what happens when
you let one go in the water column. Most times the slug immediately spread what look like wings and swam away from us; but a couple of times it just dropped to the bottom like a lifeless lump. And even though we didn't harm it, I felt a bit guilty for disturbing an animal that was sleeping.

Most nudibranchs are fairly small – somewhere between 4 and 12 centimetres – but the Spanish Dancer, presumably so named because it resembles a flamenco dancer when it swims, can grow to up to 90 centimetres long! Most often they're between 20 and 30 centimetres.

The Spanish Dancer is widespread throughout the tropical and subtropical waters of the Indo-Pacific area from the eastern coasts of Africa, Red Sea included, to Hawaii and from south Japan to Australia.

It inhabits rocky and coral reefs with many sponges and shelters from 1 to 50 meters deep.

I was truly thrilled to see this nudibranch – a first – after having missed it for years and on multiple dives, including a night dive famous for them and named "Spanish steps" after them in Komodo.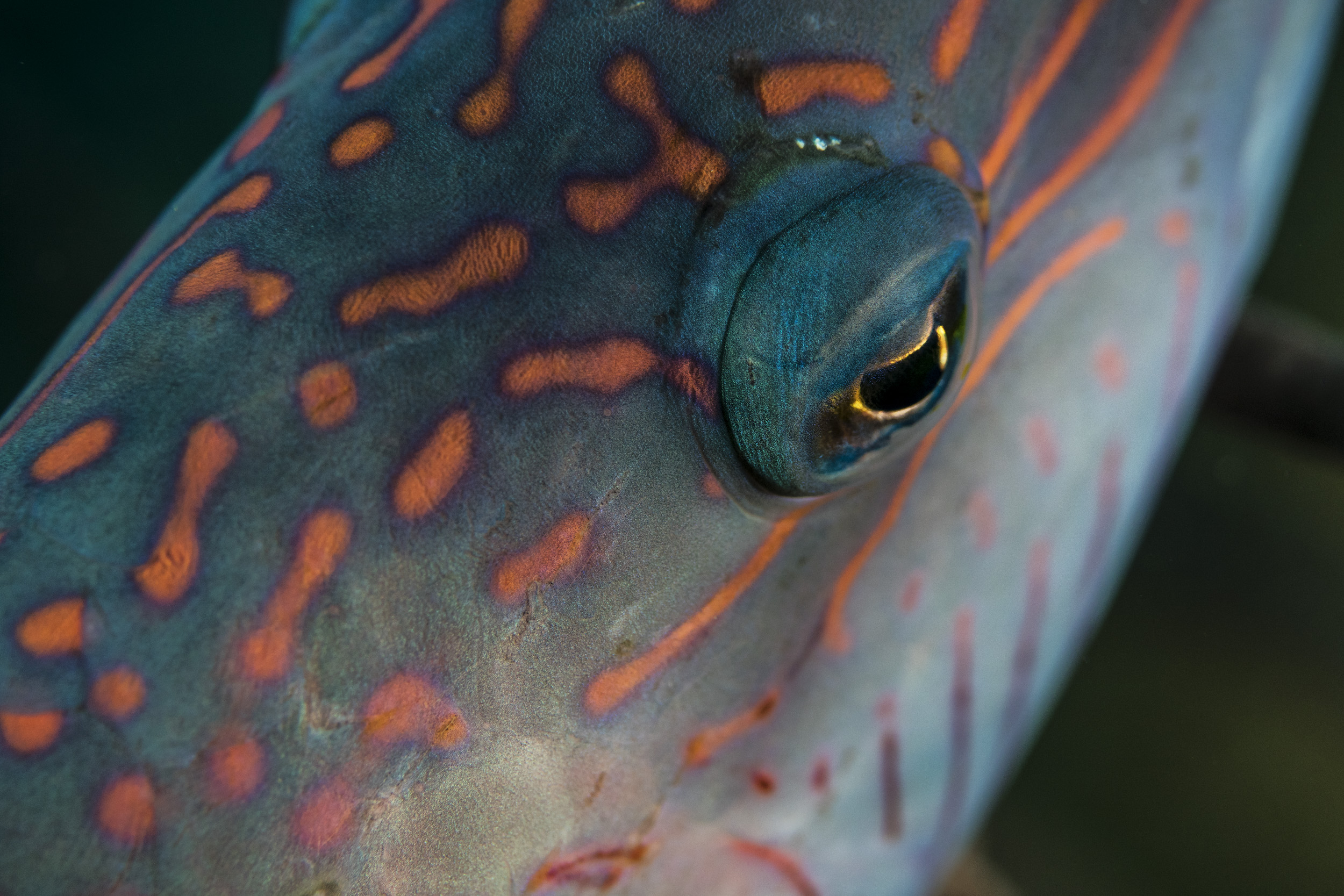 CLOSE-UP OF A CHEEK-LINED WRASSE.
RAJA AMPAT, AUGUST 2015

This particular colourful fish was maybe 25 centimetres long, unafraid yet busy, and slow-moving. We got quite close to each other.
Wrasses are a very large and diverse, mostly colourful group of fish — numbering hundreds of species. The biggest of them, the Humphead or Napoleon wrasse, can reach a length of 2 meters and weight of 180 kilos, and females have been known to live for 50 years! The Napoleon Wrasse is a favourite of divers for its size and beauty but also curiosity and familiarity.
Many species of wrasse can bury themselves entirely in the sand. Many have three distinct, and usually equally beautiful, colour phases – the juvenile, intermediate or "subadult", and adult phases.

Probably the most famous species of wrasse – other than the Humphead – is the cleaner wrasse.
The cleaner wrasse feeds on parasites it removes from its clients! There are "cleaning stations" divers love to see on reefs where cleaner wrasses have set up shop. Other fish, usually but not always much bigger than the wrasse, come in to have their parasites removed by the wrasse (and probably enjoy a bit of a massage as well!).
They hover over the corals while getting cleaned and file through like cars at a car wash. Cleaner wrasse are so diligent, and so brave, that you'll sometimes see them inside the gills — and even mouths — of their clients.
The fish being cleaned seem totally uninterested in eating the cleaner wrasse.

The cleaner wrasse has a horrible mimic, the false cleaner wrasse, which looks almost exactly the same and flits and dances about like the cleaner looking for clients…except that the false cleaner wrasse has a downward pointing mouth — and bites chunks of flesh out of poor, unsuspecting clients.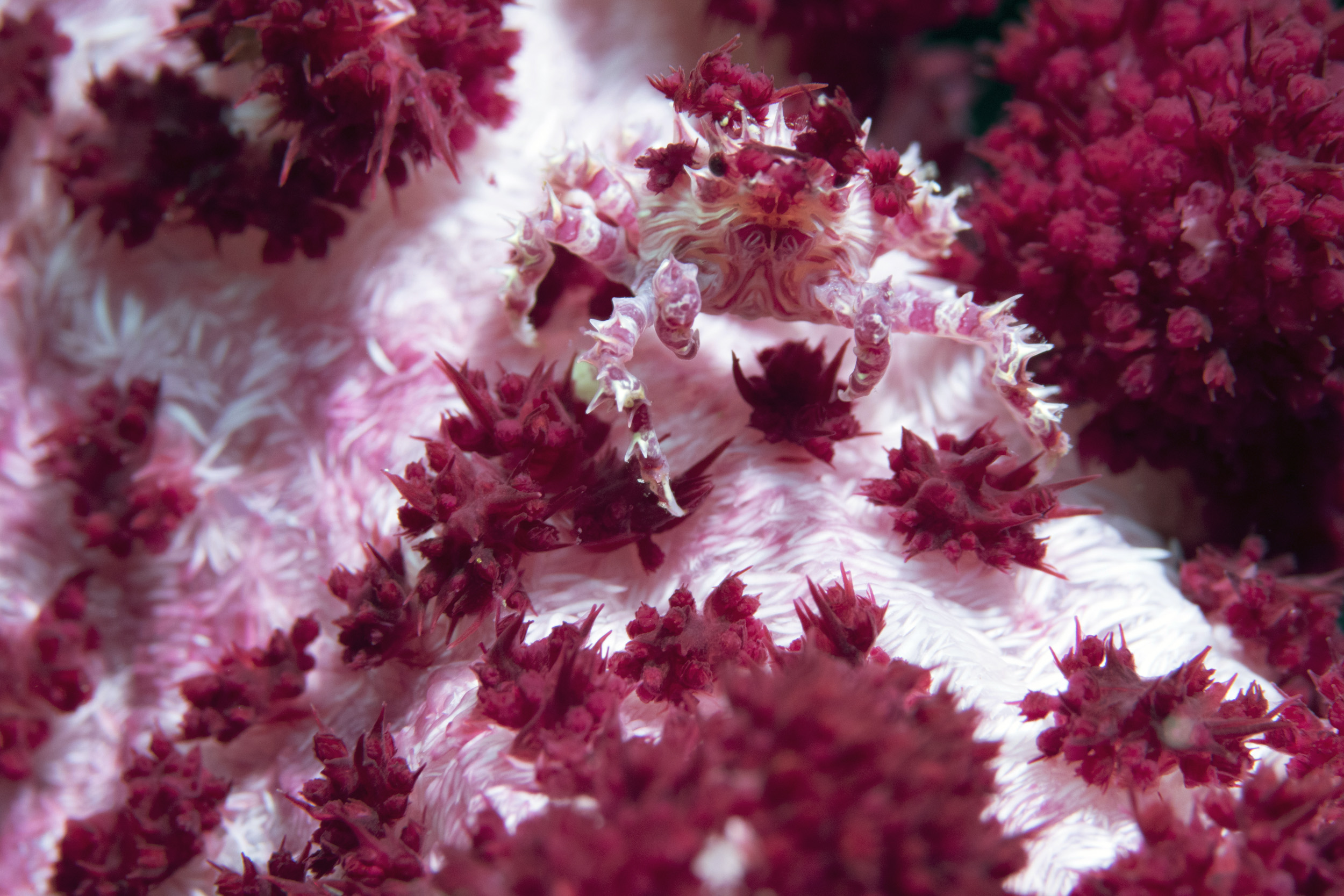 A SOFT CORAL CRAB — ALSO KNOWN AS A CANDY CRAB — STANDING, NEARLY COMPLETELY CAMOUFLAGED, ON ITS HABITAT IN RAJA AMPAT, WEST PAPUA, AUGUST 2015

The camouflage is so amazing that our guides had to point the crabs (there were 2) out. This was on the same dive during which
we saw the famed school of sweetlips surrounded by the cloud of glass fish at the overhang.

"Hoplophrys oatesi is a very colourful crab that grows from 1.5 to 2 cm. It lives on various species of soft coral in the genus Dendronephthya. It camouflages itself by mimicking the colours of the polyps among which it hides. It adds further camouflage by attaching polyps to its carapace. Colours vary depending on the colour of the coral, and may be white, pink, yellow or red.
The first pair of legs of this species has small claws. The body has pointed spines with a red and white pattern, similar in appearance to the host coral.
This crab is widespread in the Indo-Pacific." (Wikipedia)

I have personally only seen these in Raja Ampat and Lembeh, Indonesia. They are stunningly beautiful and intricate.
It was difficult to get a good photograph of the 2 crabs together in Raja Ampat, and most of my images – like this one – are of one individual or the other.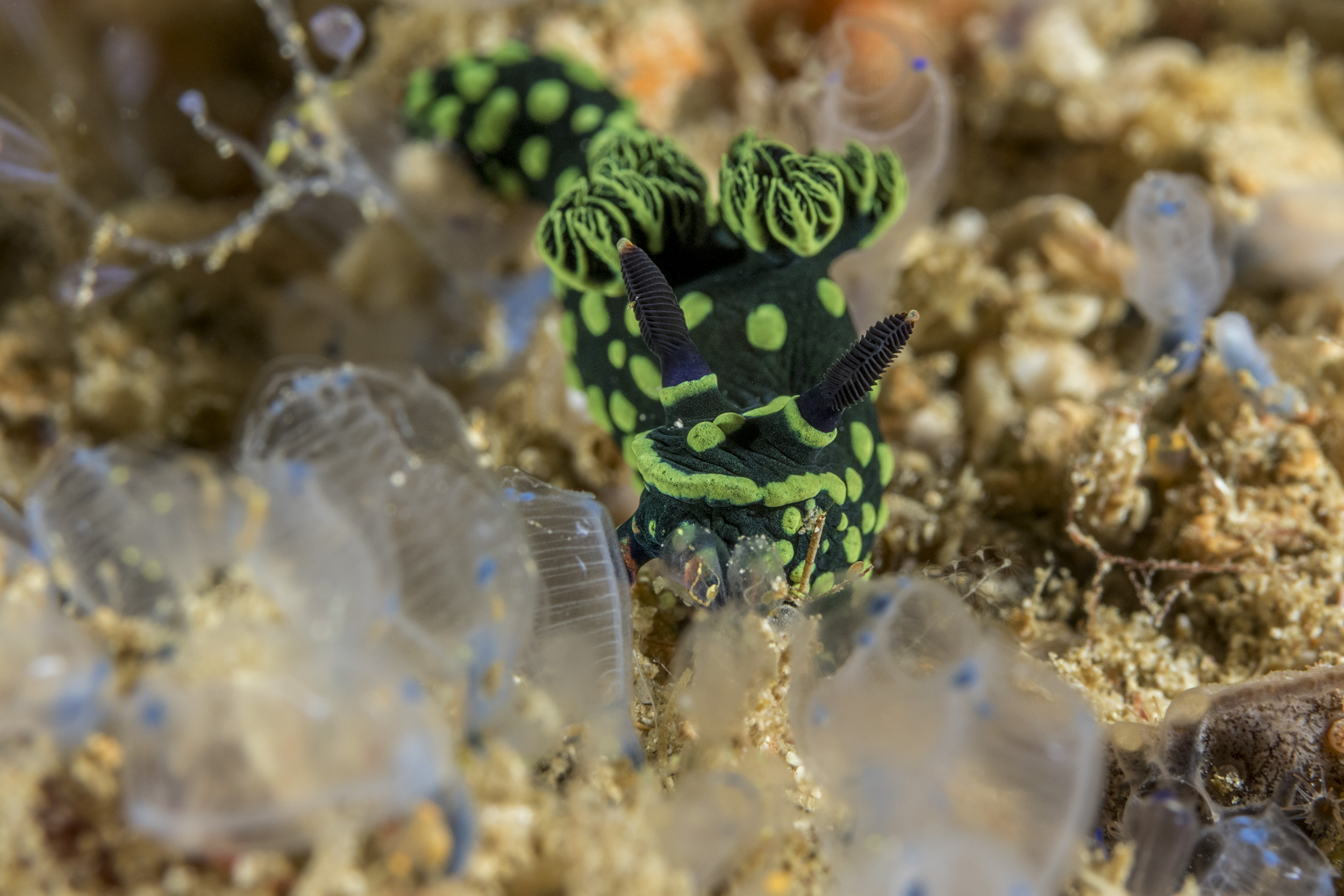 ONE OF MY VERY FAVOURITE NUDIBRANCHS, NEMBROTHA CRISTATA, IN RAJA AMPAT IN AUGUST 2015.

This one was sliding through a field of tunicates. Its lungs — the bouquets on its back — and rhinophores, the stalks on their heads
people mistakenly think are eyes, are very visible in this image.

This nudibranch was common in Raja when I was there in 2015, and also quite common in the Philippines when I was there in 2017.
Watching this guy slide between tunicates as if in an obstacle course was great fun… and it's always hard to choose among my 5 favourite photographs of this moment for exhibits and publishing.

N. cristata reportedly grows to about 5 centimetres and lives for up to a year. It spends its time between three and twenty metres below the surface, and eats "compound tunicates".
This nudibranch's bright colours advertise its toxicity to would-be predators. "Warning colours" are the norm with nudibranchs, as they are for many other toxic creatures such as Central and South American poison arrow frogs.

This sea slug, "like all opisthobranchs", is a hermaphrodite. (Wikipedia)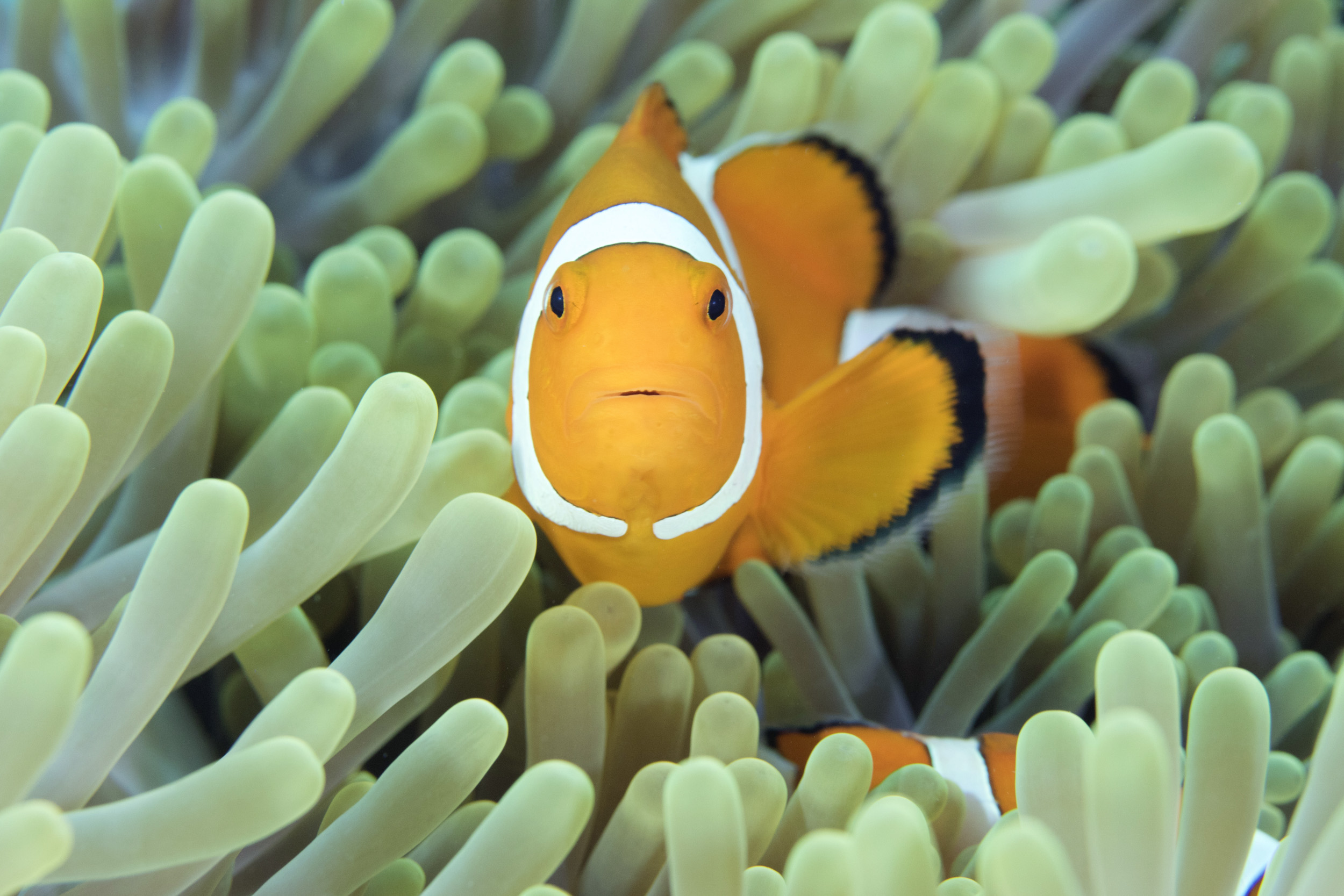 A CLOWNFISH (AMPHIPRION OCELLARIS IN THIS CASE) RESTS ON ITS ANEMONE HOME IN RAJA AMPAT IN AUGUST 2015

Clownfish are so frequently photographed that it's very rare to see an image of them that is extraordinary

— and hard to find a new and interesting angle.
Although we only commonly see maybe 3-5 species in the media (Think NEMO), clownfish comprise quite a large family of fish — numbering 20 or more species.

They sometimes breed in captivity, which is practically unheard of for marine fish, and are immune to the sting of their anemone homes.
Living in symbiosis with their hosts, clownfish (or "anemone fish") have been known to bring food to their anemones while
living in complete protection.

In aquaria some clownfish never pick or settle in an anemone. Those that do sometimes die if their anemone is removed
or dies.
Thanks to their slimy mucus, clownfish do not get stung by anemones.
Other fish are caught and, frequently, eaten by anemones.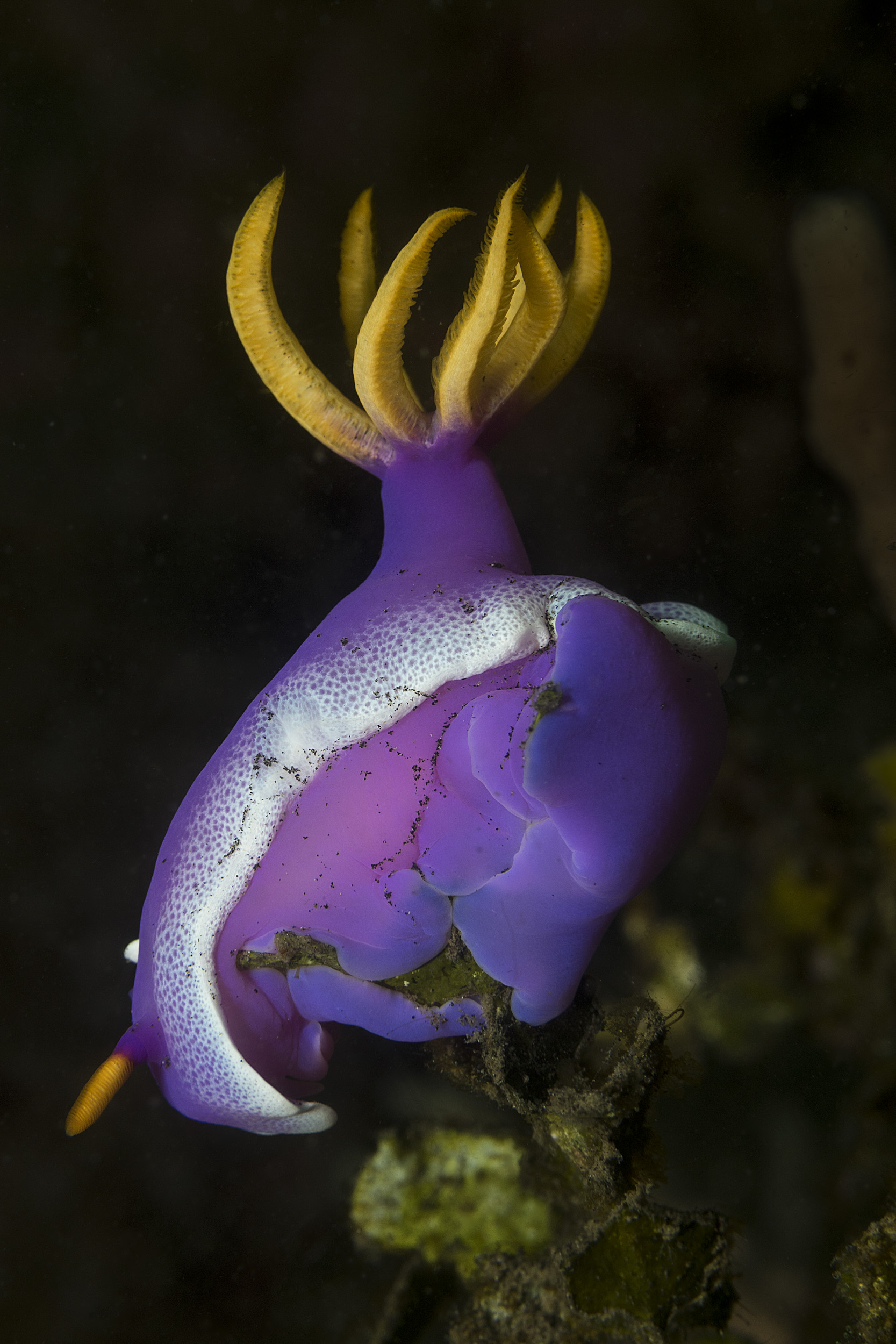 A HYPSELODORIS APOLEGMA, ONE OF THE MOST BEAUTIFUL NUDIBRANCHS I KNOW…
LEMBEH, INDONESIA, IN AUGUST 2016

Having only seen this species in guide and photo books, it was an immense pleasure to find this nudibranch in Lembeh.
The first individuals we saw were among very delicate corals. It would have been unwise to photograph them much – hard to
balance and not break anything (many species of coral take decades or more to grow by even an inch). After several different animals and no great shots,
our guides Ramly and Nolfi told us other divers had seen an animal at a specific site we then visited.
This slug was literally at the centre of a perfect circle of tall corals in a large sand or muck patch fairly deep down. The situation looked too good to be true – as if some cheeky diver had purposefully positioned the animal on a pedestal in order to photograph it. And photograph it we did – for over 8 minutes. Despite its being far above the muck, which Lembeh is famous for, you'll notice I stirred some of it up – visible towards the bottom of the animal.

We must have seen about six of these by the end of our trip. The animal in this image was the only one that yielded great photographic results.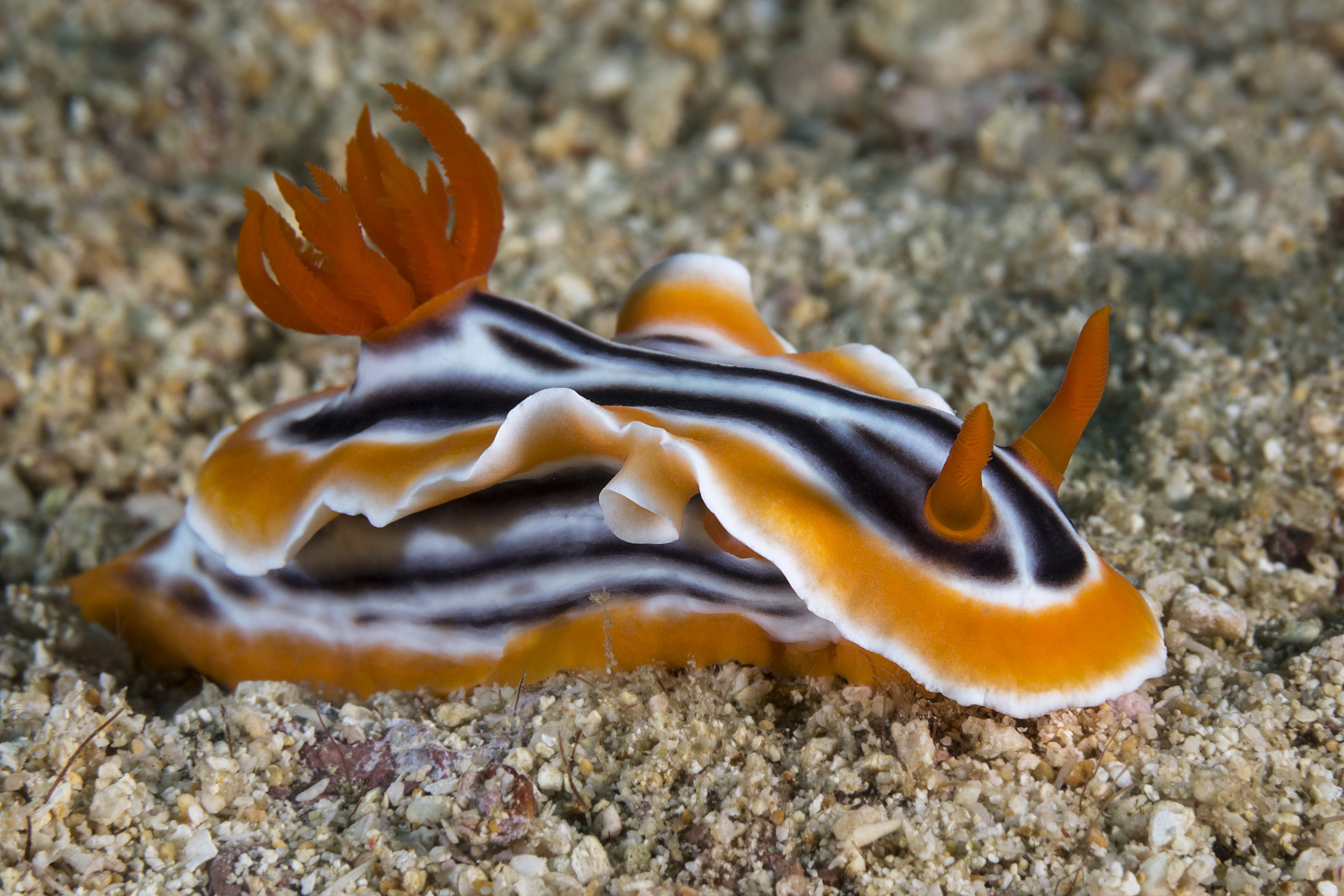 THIS IS A NUDIBRANCH IN THE PHILIPPINES IN MAY 2017.

I'm not entirely sure which species – but it's surely from the Chromodoris family…
Possibly C magnifica

The opening on the right of its mantle is actually a sex organ. Nudibranchs mate side by side
and head to toe, not face to face. I used to refer to this feature as an "exhaust pipe"!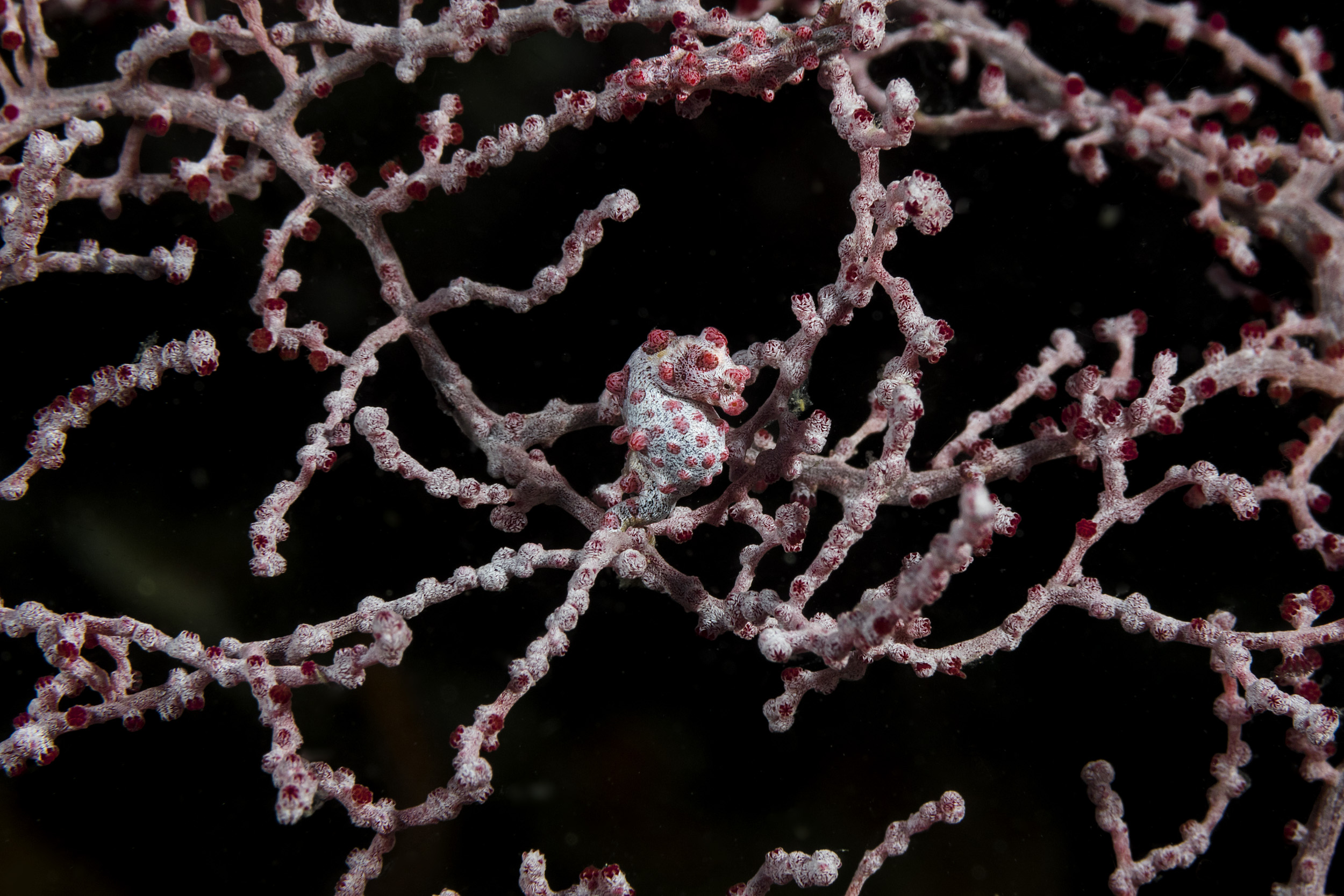 A PIGMY SEAHORSE ON ITS CORAL HOME 28-30 METERS DOWN IN THE PHILIPPINES IN MAY 2017.

They are very hard to photograph since the camera has a hard time focusing on the coral, which is so thin and spread out, and fish rather than the background. And the wily seahorses turn away or bend downwards most of the time. Sometimes they bend down AND look away! The best photos of them, I'm told, are taken by a photographer who places his camera on a tripod about 70 centimeters from these geniuses of camouflage.
This one was bigger than its companions and looks pregnant to me.

This pink species is but one of many. Pigmy seahorses also come in black, yellow and bright red as well as in different shapes. They measure only 1.4 to 2.7 centimetres!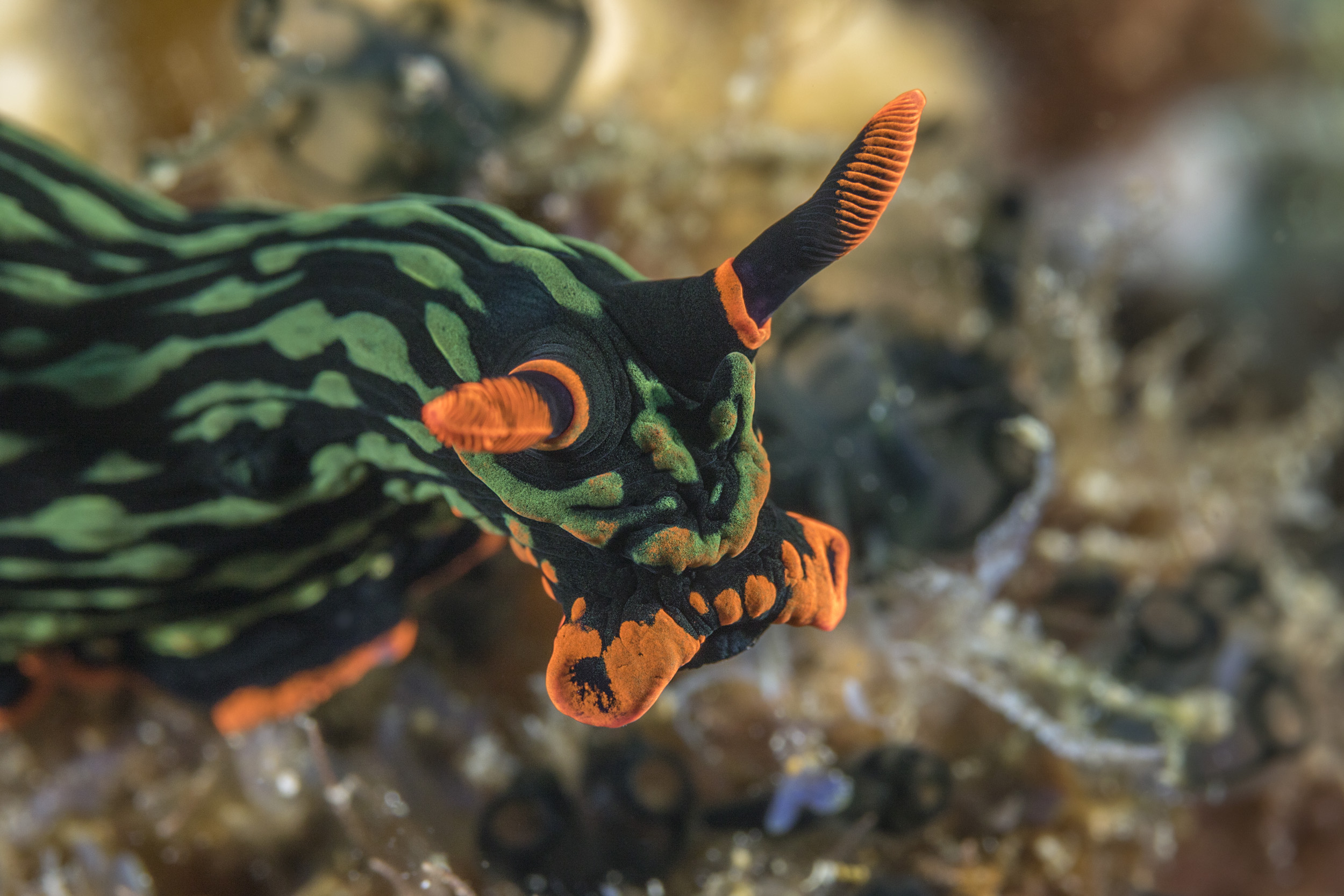 NEMBROTHA KUBARYANA IN THE PHILIPPINES, MAY 2017
— ALSO KNOWN AS THE "VARIABLE NEON SLUG" OR THE "DUSKY NEMBROTHA"

This is another one of my favourite nudibranchs!
They seemed to be nearly everywhere on my Philippines expedition.

This species can reach 12 cm in length and comes in multiple colour variations -- As do many species of marine creatures, including fish.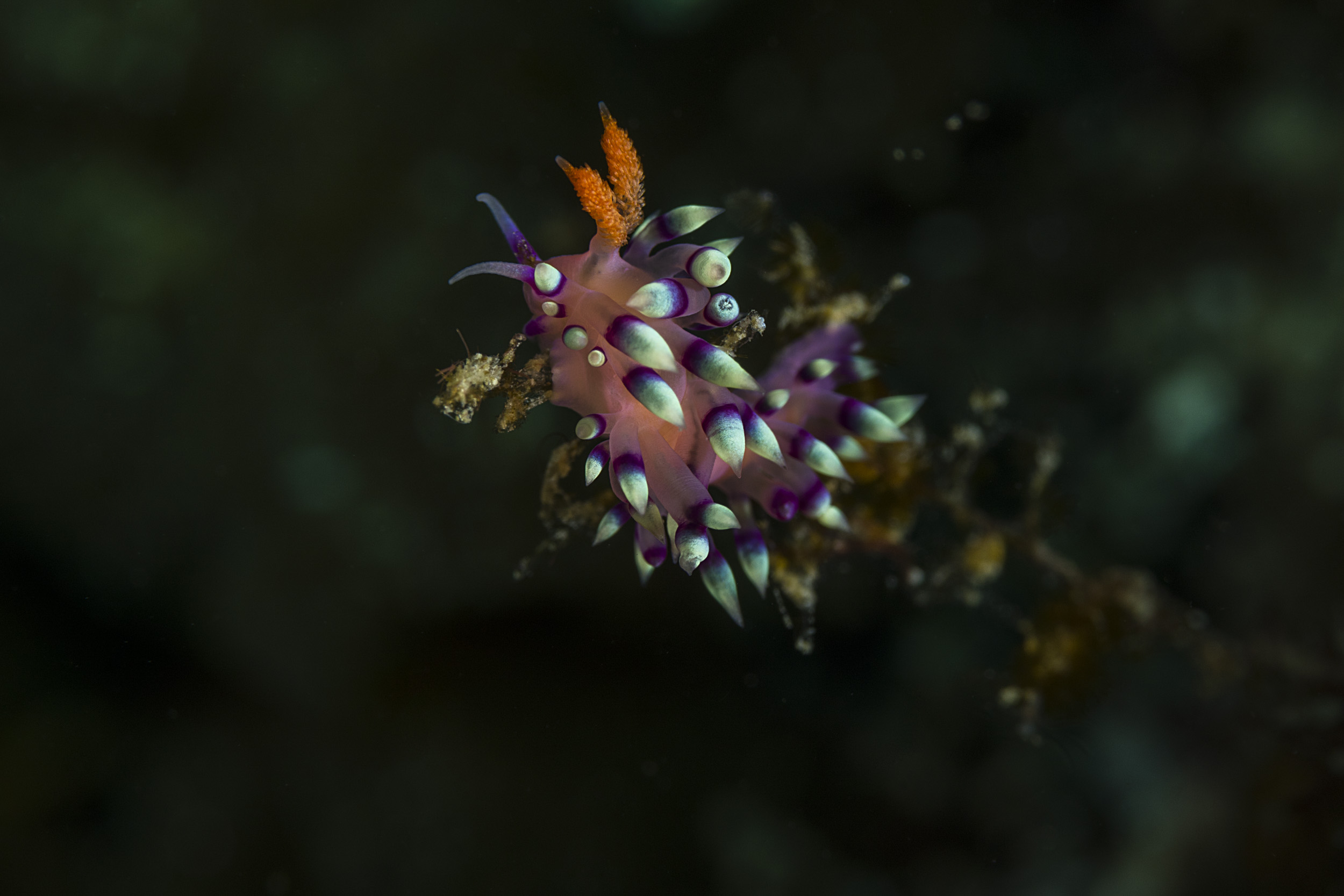 FLABELLINA EXOPTATA
NUDIBRANCH AT EITHER CHOCOLATE OR GATO ISLAND A FEW MILES FROM MALAPASCUA IN THE PHILIPPINES, MAY 2017

This was on the same dive during which we found the Spanish dancer nudibranch!

Its scientific name can be roughly translated as the "much desired" or "desirable" Flabellina, and it is widespread throughout the tropical waters of the Indo-West Pacific.
Size ranges between 3 and 4.8 centimetres.

I had never seen this species before. As it is very intricate it was a pleasure – and a bit of a challenge – to photograph.

The guide found this slug in fairly shallow water and, as you can see, it was expertly balanced on the extremity of a marine plant or alga.