An illustrated exploration by Prince Hussain Aga Khan
And Q&A with Principal Mammal Curator, Richard Sabin
Photographs by Hussain Aga Khan
From the 6 to the 24 September, 2022, The Ismaili Centre, London, will host a stunning exhibition of underwater photography by Prince Hussain Aga Khan. Specially curated to showcase the joy of our oceans, the show aims to encouraged people fall in love with nature, change their behaviour and ultimately educate others.
To celebrate this exhibition an opening reception, hosted by Prince Hussain, will be held at The Ismaili Centre on Tuesday 6 September to offer a first opportunity to experience the work.
Exploring the content of the exhibition in more detail, an illustrated talk, The Seas of My Youth, will be delivered by Prince Hussain at the Natural History Museum on Tuesday 13 September from 19:00-21:30. This will showcase the coming together of photography and science in the pursuit of ocean conservation and will include a Q&A with Principal NHM Curator Richard Sabin and access to the Museum's collection.
YouTube link for Prince Hussain's illustrated speech (live stream 13 September 2022 at 7:20pm BST)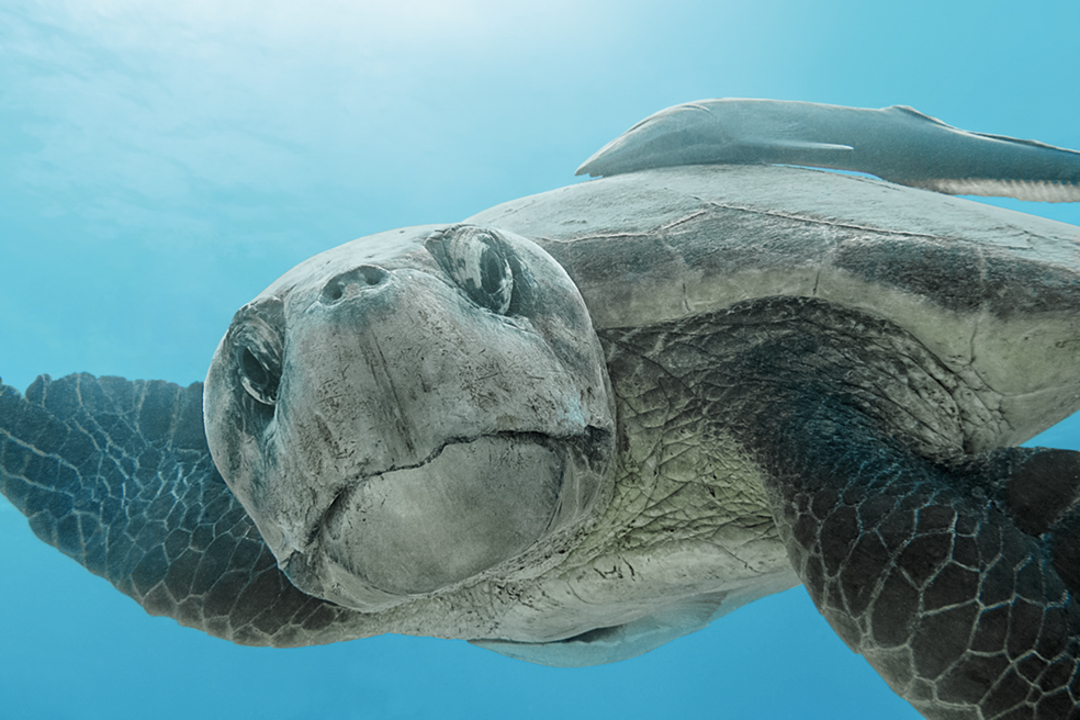 Indignant loggerhead turtle with a remora comes to check me out
The Exumas, April 2014
This man seemed unhappy I'd witnessed his courtship ritual – start of mating – from up close a couple of minutes earlier. His mate had moved off by the time this picture was taken. He was above me when he looked down a little condescendingly. To be honest, it even felt a little menacing…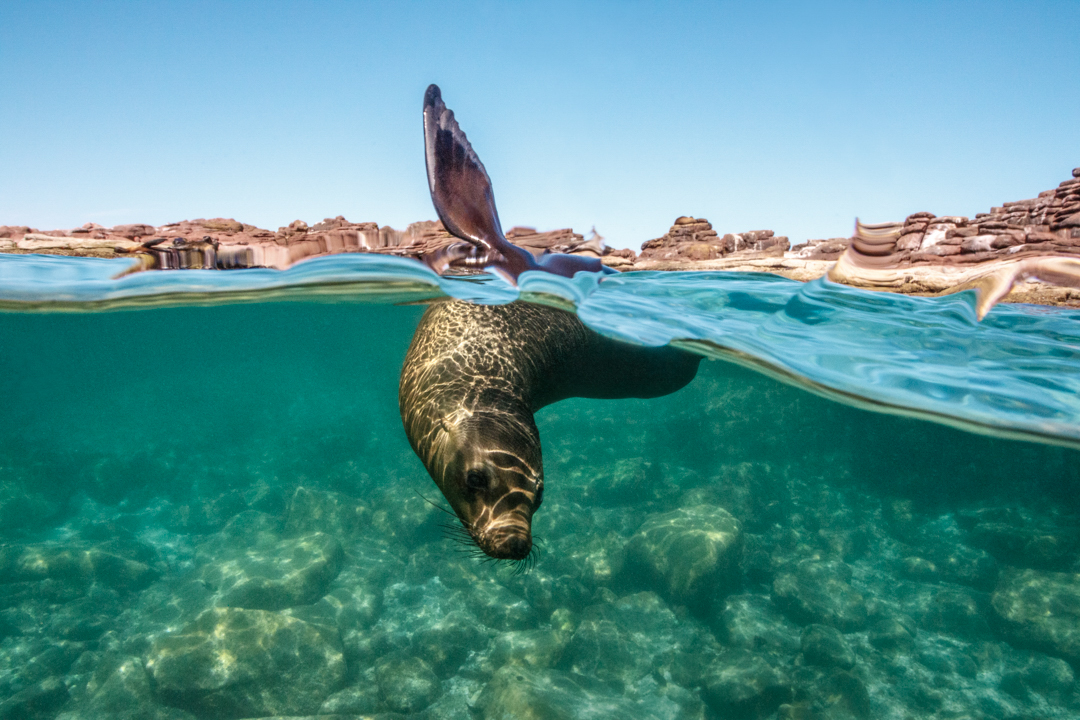 Split level sea lion
MEXICO, MARCH 2016
I don't even remember shooting this! After hundreds of thousands of images sometimes you forget. Split levels are hard as you're usually treading water and the camera is quite heavy. So capturing this was a nice surprise—and so was finding it years later.
Alien Eyes! Fur seal pup
THE GALAPAGOS, MAY 2016
At times it felt like we were playing peekaboo. Regularly
it would come forward before backing up into the rocks again.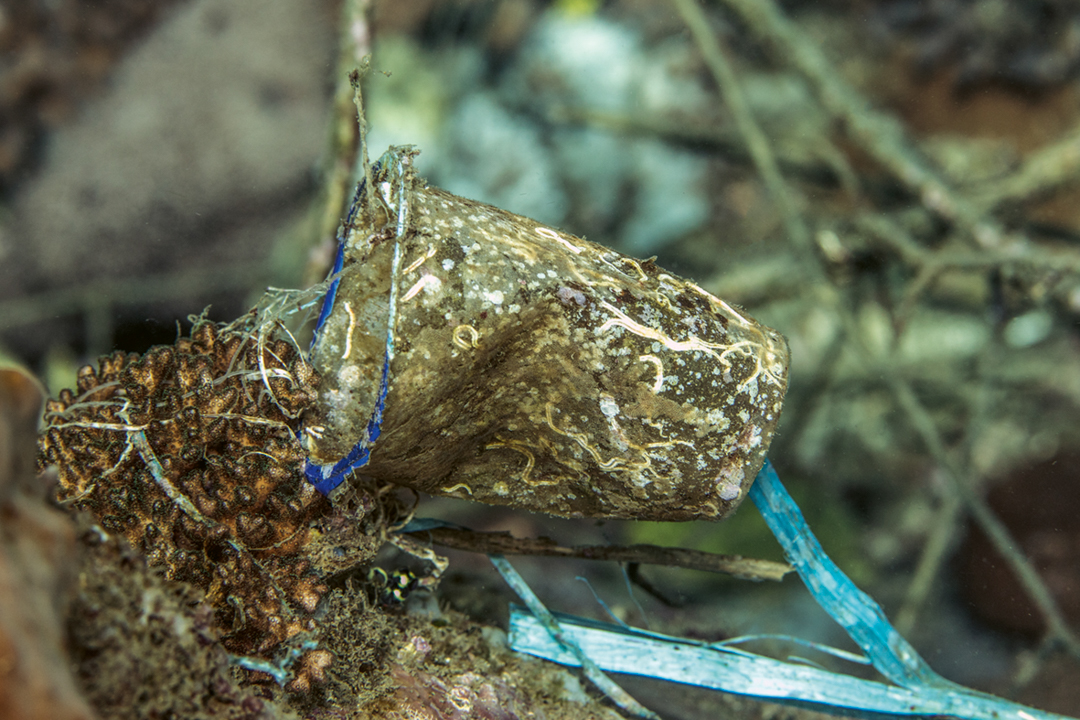 Plastic glass
INDONESIA, AUGUST 2016
Just one example of the terrible things we are doing to our oceans. In 2050 there will be more plastic than fish (by mass) in our seas.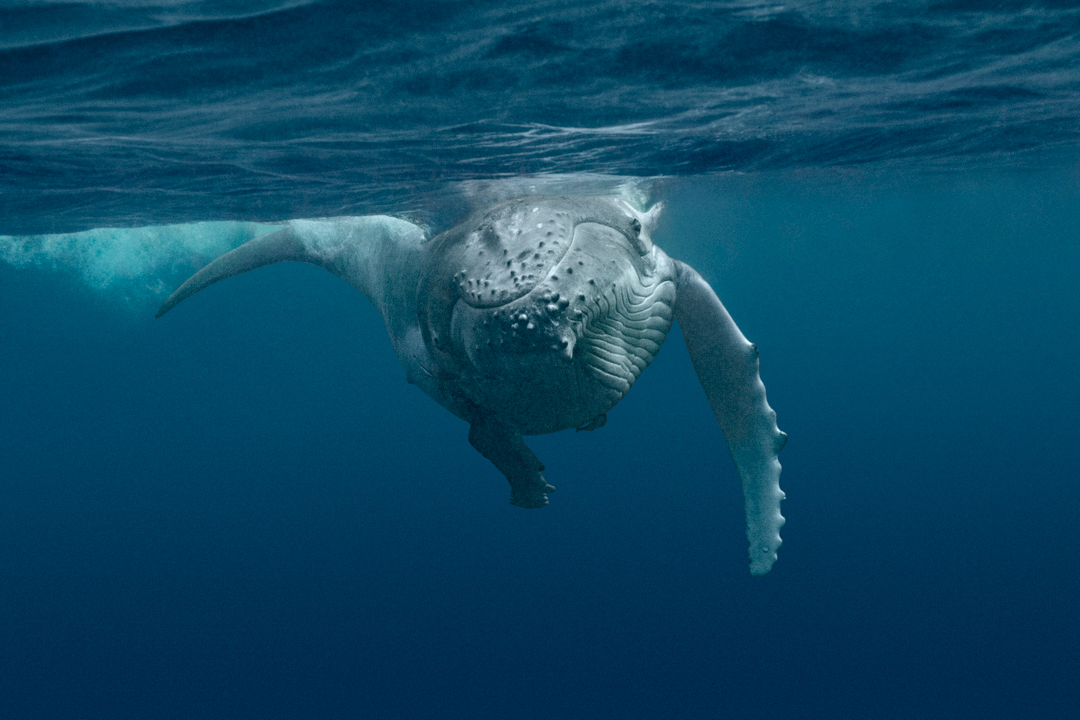 What my friend Tamiko calls 'Attack whale'!
VAVA'U, TONGA, AUGUST 2017
Sometimes whales chase you or rush you! That's what our first real whale of the 2017 season did to us.
The three whales in a group on our first day were highly preoccupied, possibly with mating on their minds (the beginning of a 'heat run'), and swam off fast each time we got in the water with them.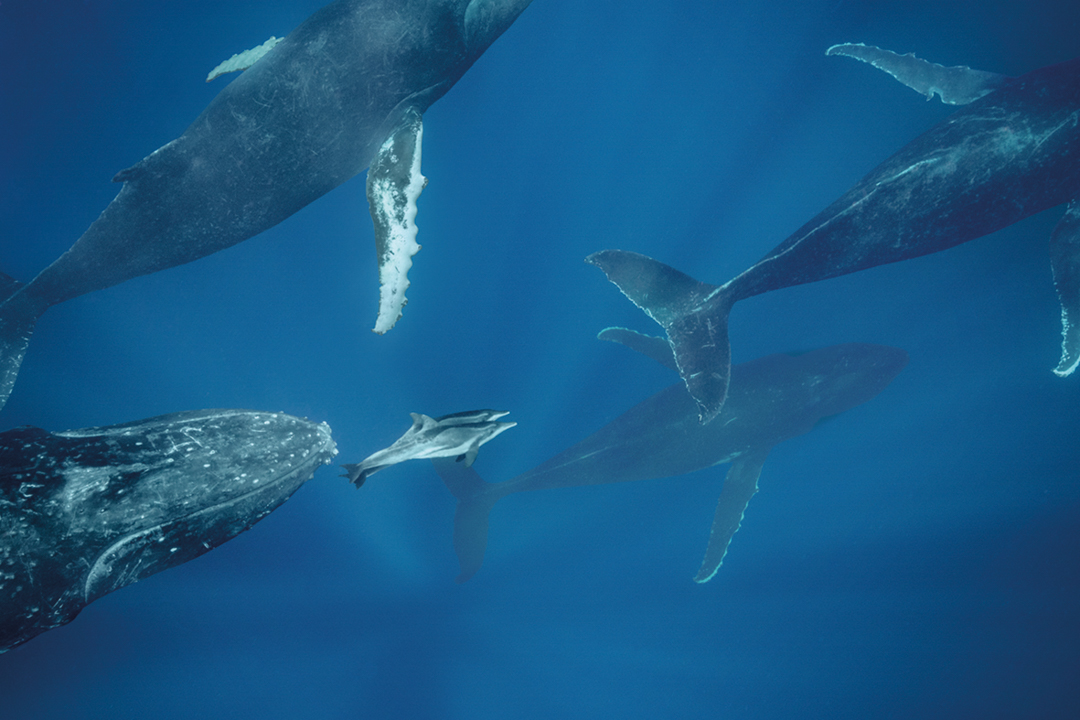 Two rough-toothed dolphins swim with humpback whales off Vava'u
TONGA, SEPTEMBER 2017
It's not infrequent to see whales and dolphins together. At times we see large groups of dolphins milling around.
In this case the dolphin duo might as well have been pilot fish...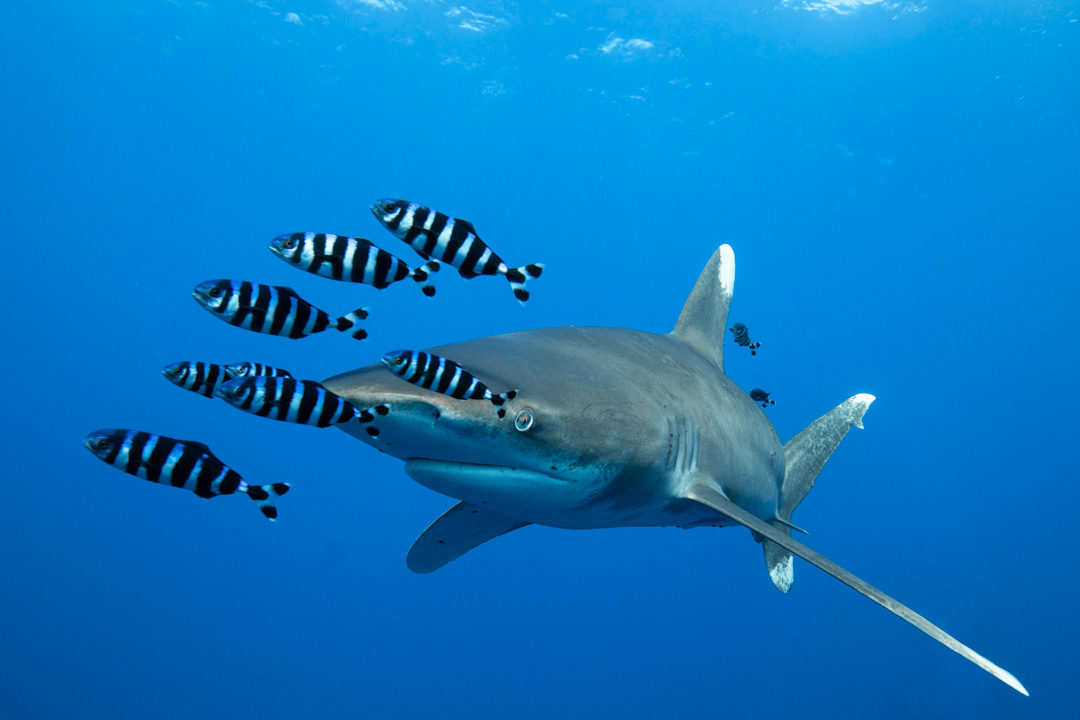 Oceanic whitetip shark accompanied by pilotfish
ELPHINSTONE REEF, EGYPT, DECEMBER 2017
Although friends have seen oceanic whitetips with an entire cloud of pilotfish all around them, this is the greatest number I've seen so far.
Great hammerhead, its mouth torn on the side, most likely due to a fishing injury
BIMINI, THE BAHAMAS, APRIL 2018
Some fishing practices are more brutal than others — and some fishermen less caring than others.
This shark must have suffered from one or both of the issues above.
It certainly seemed to have a harder time eating than the rest of the sharks we saw that day.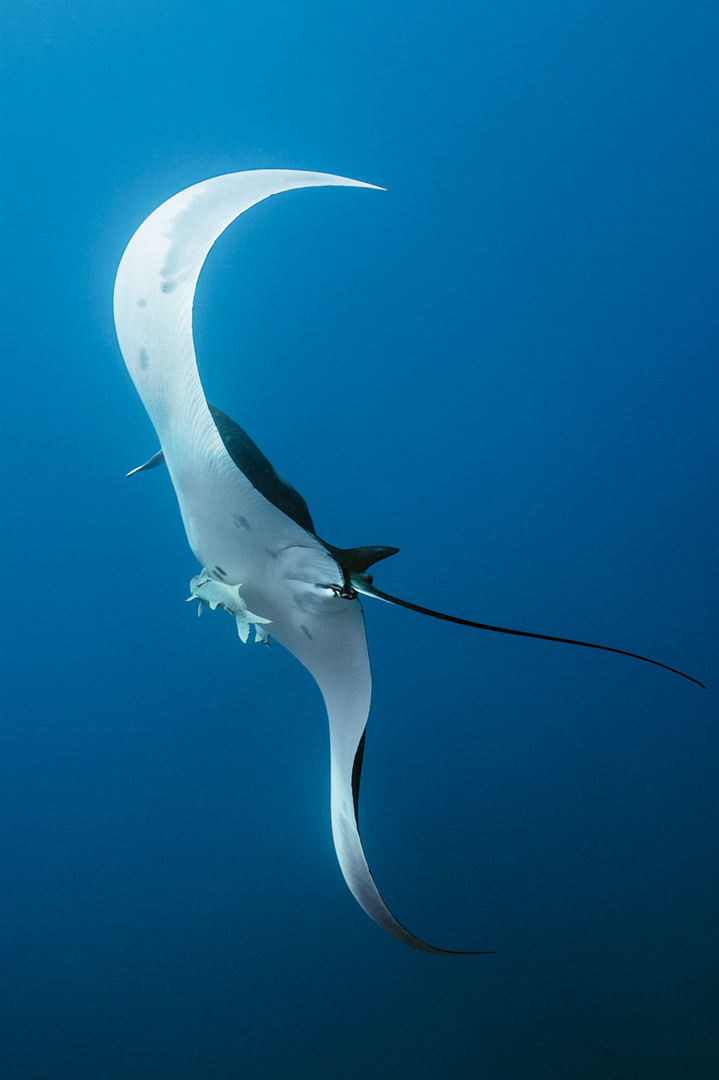 Manta shifting right
LA PAZ, MEXICO, AUGUST 2018
We were a bit deeper than I like… One manta came much closer than this to my friends and me. This one kept its distance and was a little too fast to approach easily. If you move too fast it scares the animals away… so some sort of balance must be struck.
For some reason I was more hesitant than usual – needing to rise higher and swim faster than desired – and worried that no good pictures would materialize from this dive.
Some of the most graceful and beautiful creatures on the planet, mantas look good in practically any position or pose.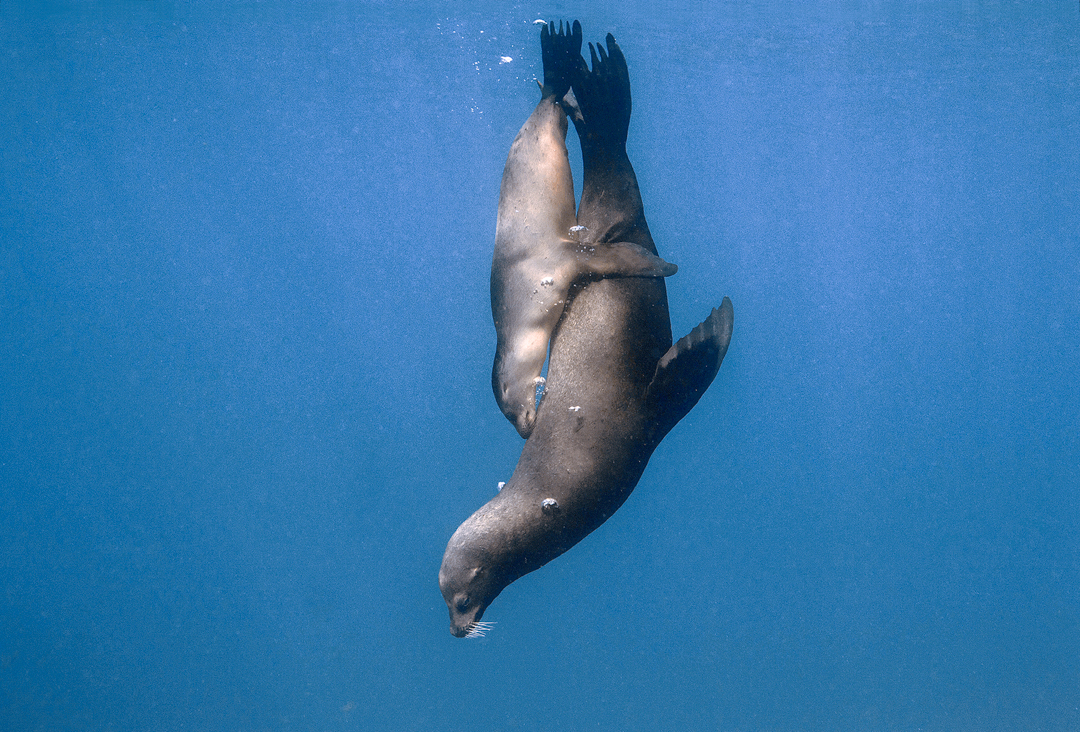 Moving mummy hug
LA PAZ, MEXICO, AUGUST 2018
There were about 8 sea lions in that location, all moving at different speeds and in different directions. But this duo seemed organized and even purposeful. The hug lasted seconds or less.
It was completely unexpected. I took about twelve shots... This is the best one; it's just a shame that there isn't more space between the animals' tails and the top of the frame.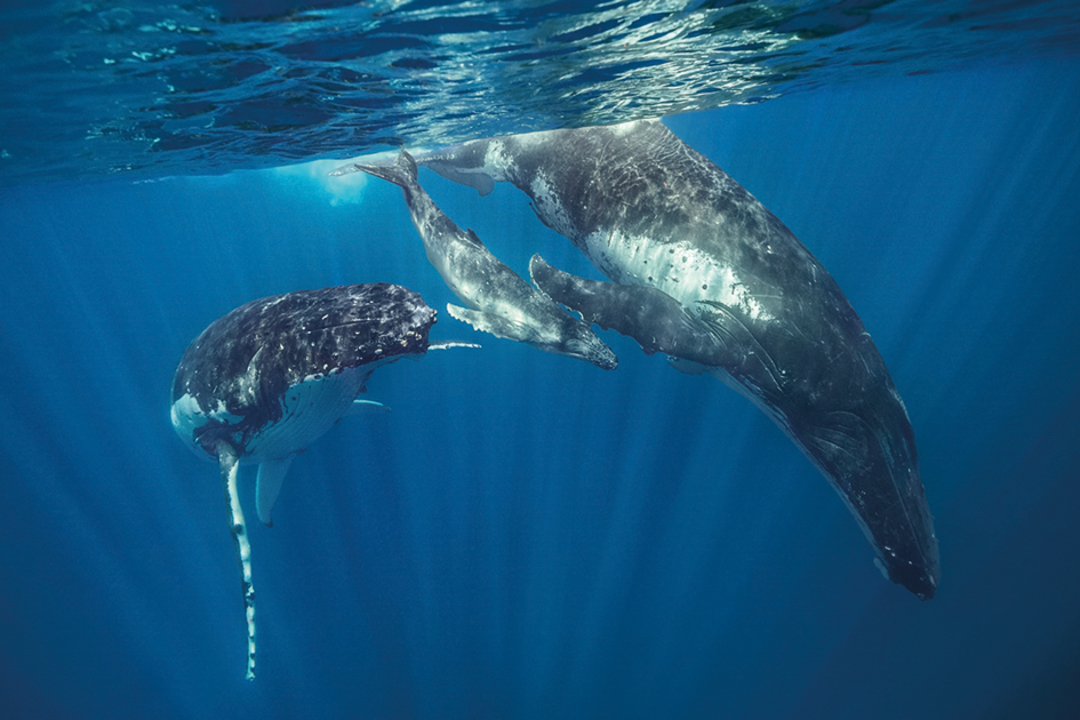 Humpback mum, calf and escort (not the father)
VAVA'U, TONGA, AUGUST 2018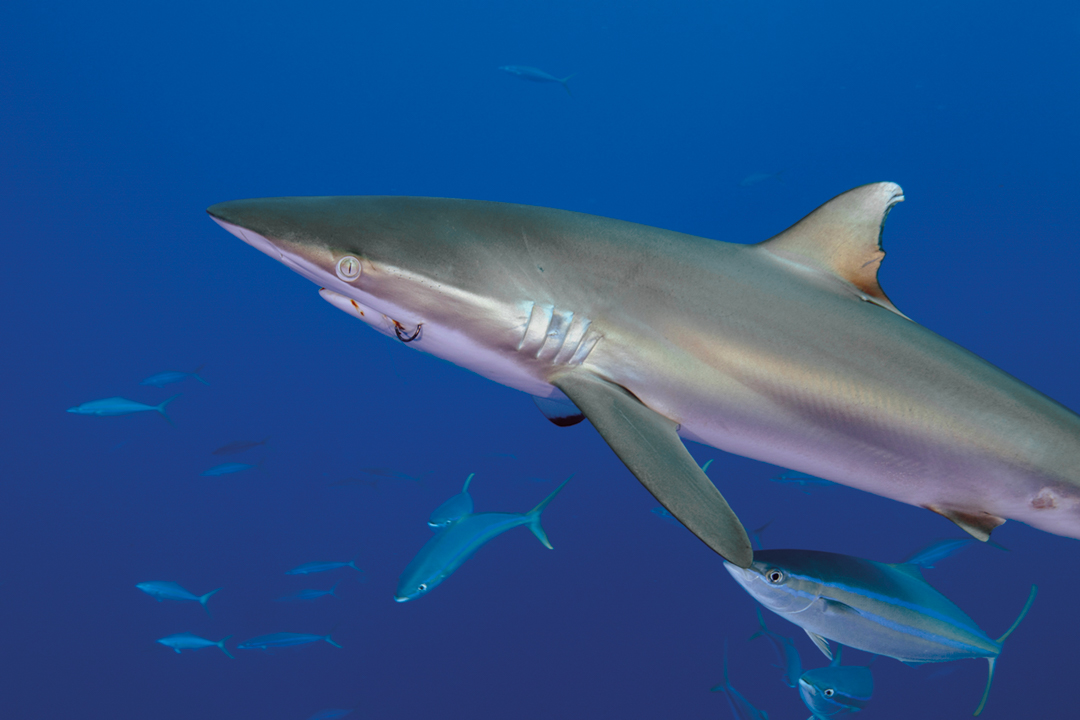 Silky shark with hook and rainbow runners
ANDROS, THE BAHAMAS, APRIL 2019
Our approach to fishing is beyond flawed.
We have reached a point where... not only are 90% of the big fish already gone; but 50% of stocks are overexploited and another 40% pushed to the limit.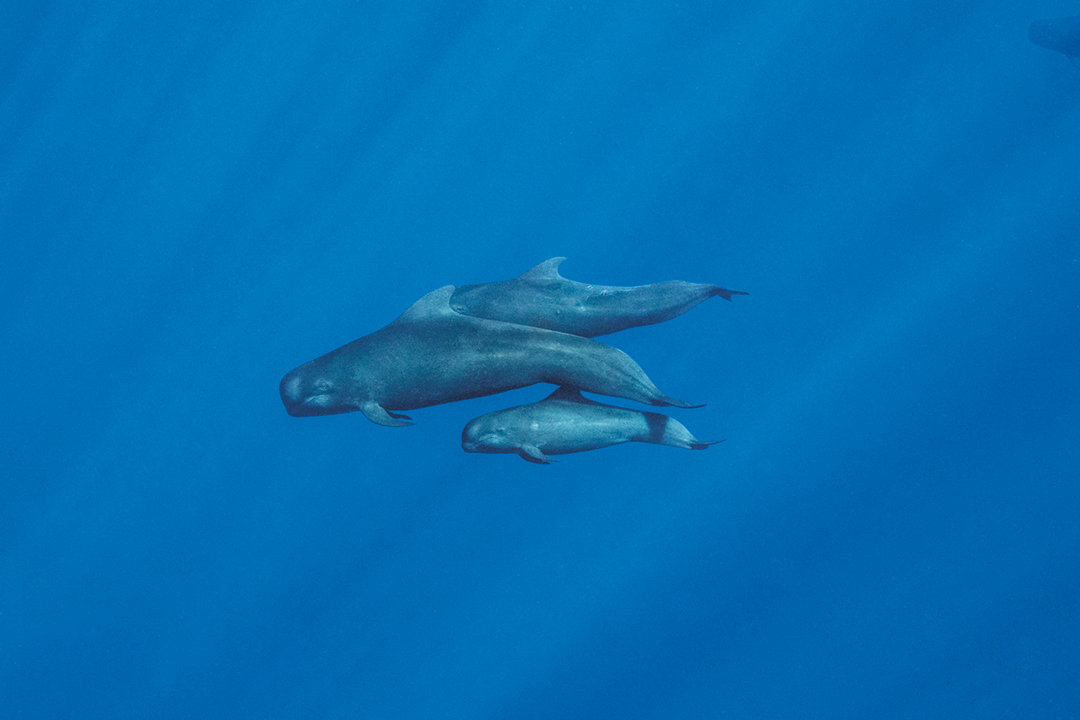 Pilot whales swimming through the light
MO'OREA, SUMMER 2019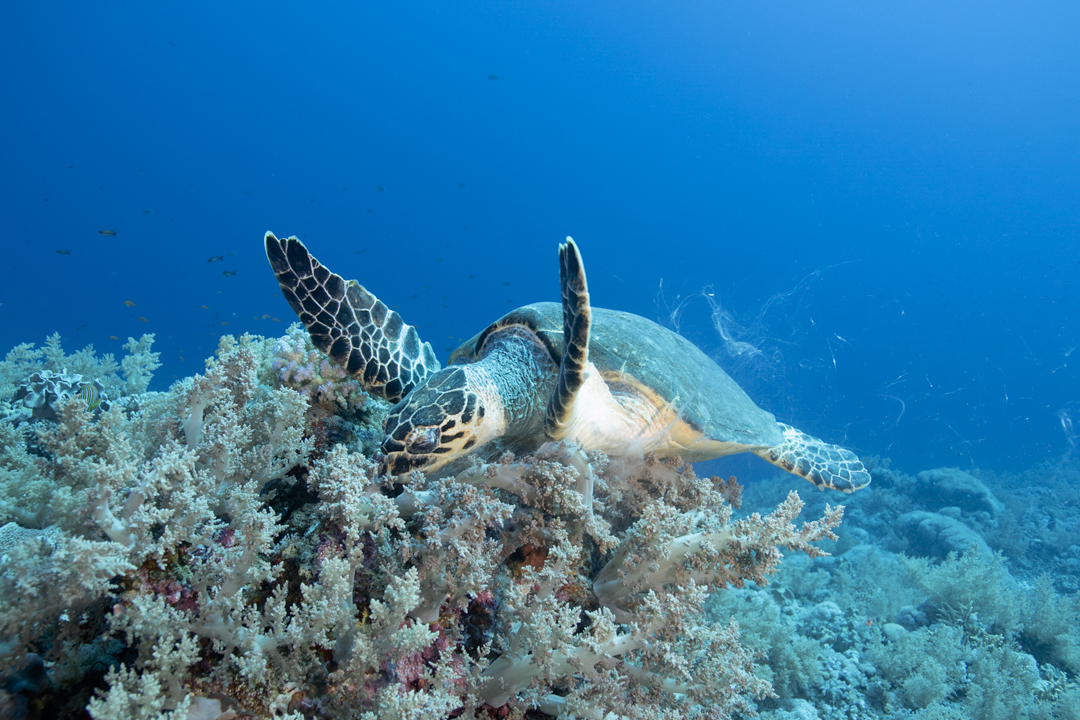 The hawksbill turtle I found and photographed at Elphinstone
EGYPT, NOVEMBER 2019
After observing its surroundings and lazily swimming above them it decided to eat this soft coral. As the turtle ate, long strands of a gelatinous substance started to form and drift away.
Plastic waste
SARDINIA, AUGUST 2020
This sort of sight is increasingly regular – and equally alarming. The production of plastic is expected to increase fourfold over the coming years.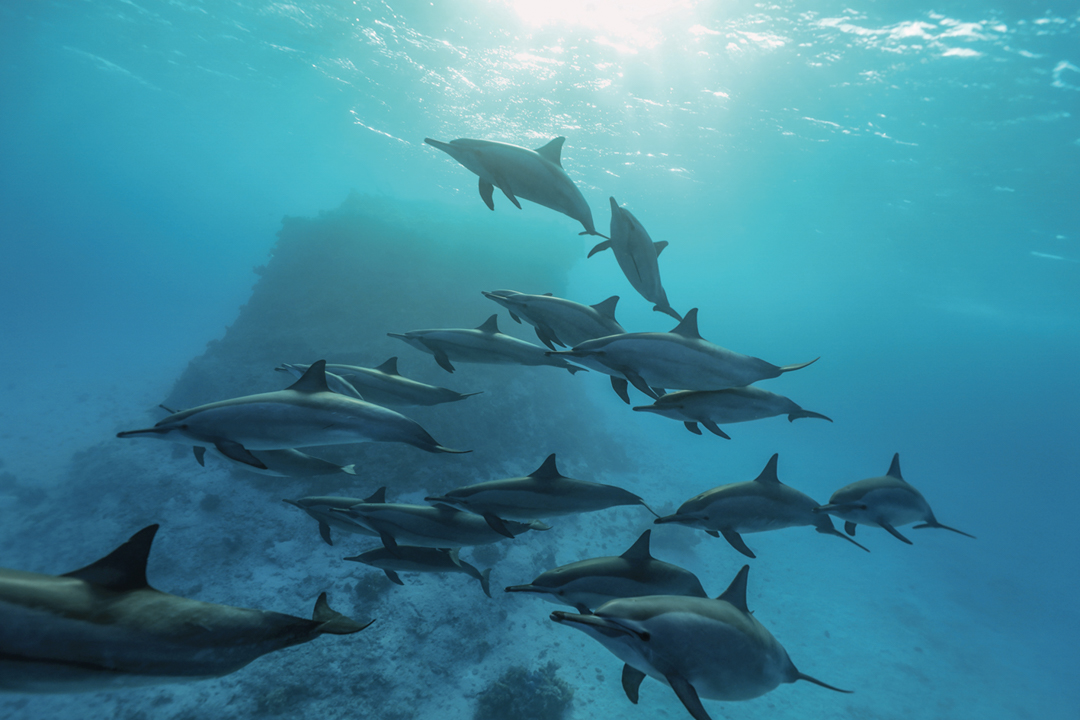 One of my very favourite views of the spinner dolphins next to one of the very few pinnacles in the bay
SATAYA, EGYPT, NOVEMBER 2020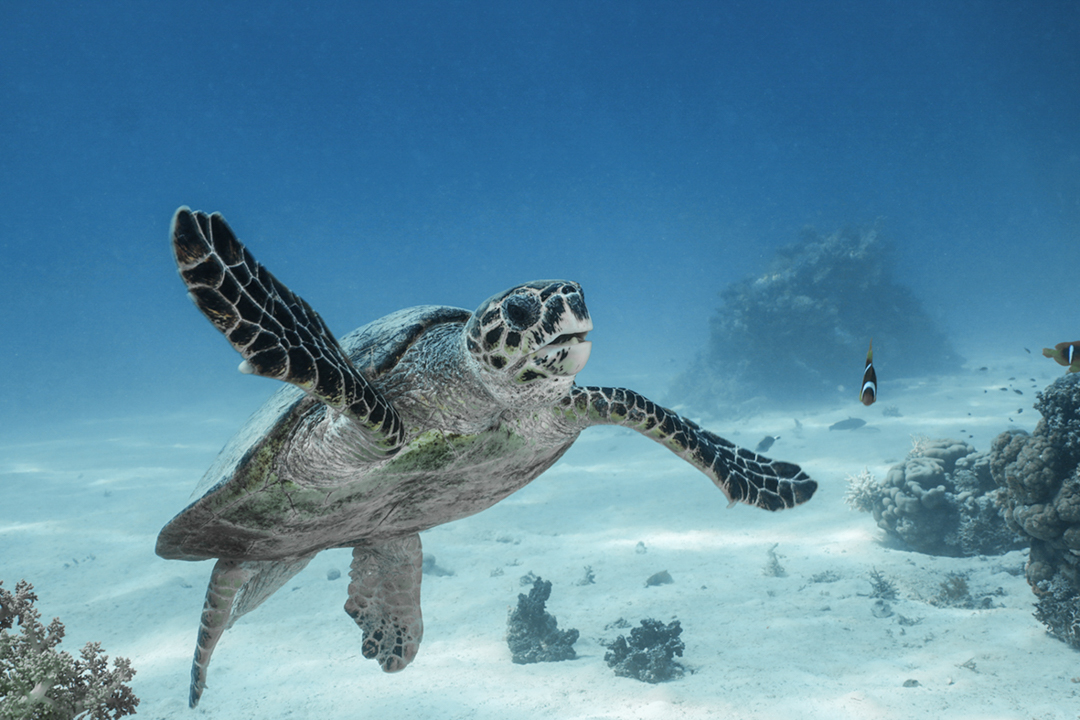 Hawksbill turtle wandering from coral head to coral head in Sataya
EGYPT, DECEMBER 2020
An incredible experience just under the boat with the most wonderful, calm and curious turtle. It ate so much that it must have been ravenous!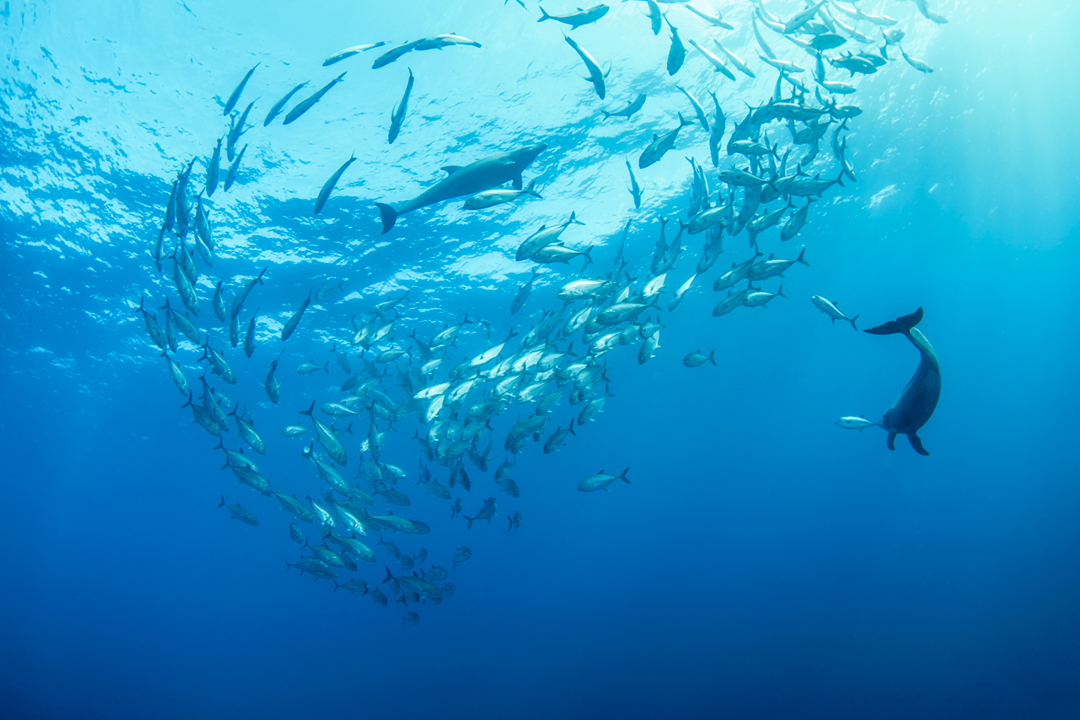 Bottlenose dolphins explore a school of jacks in the Revillagigedo islands.
MEXICO, FEBRUARY 2021
The dolphins had come to play, not to eat... not one jack was chased, wounded or killed. Moments such as these are sheer serendipity.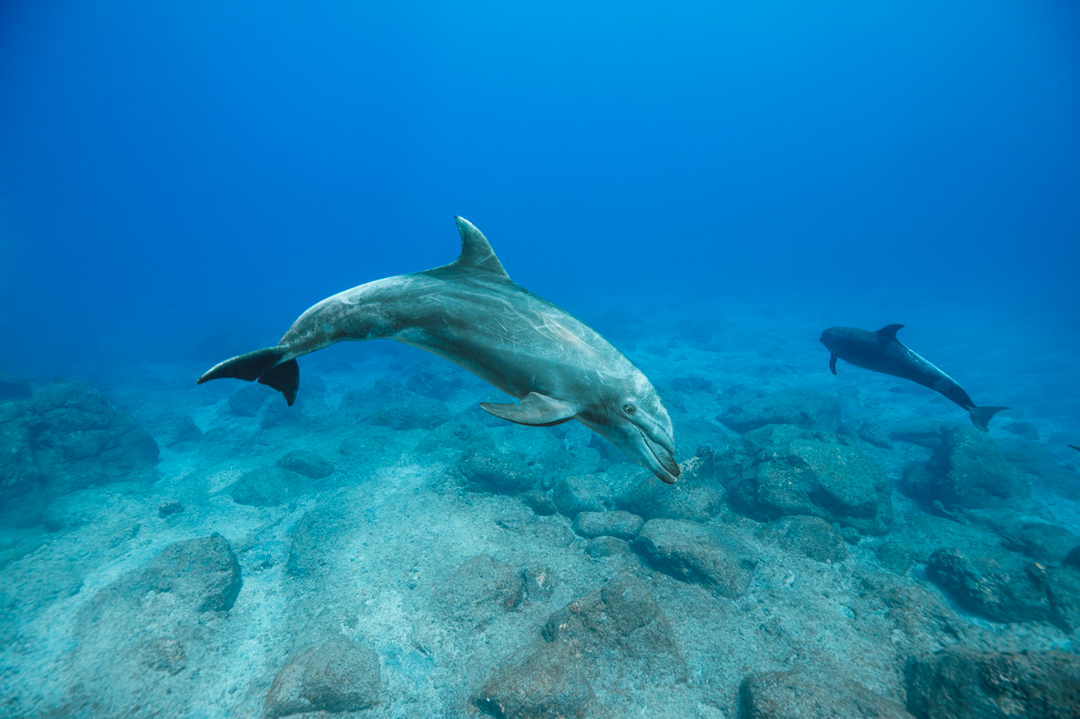 "Smiling deep down"
Bottlenose dolphin
SOCORRO, MEXICO, FEBRUARY 2021
One of the most fantastic encounters during a trip to the Revillagigedo islands consisted of 7 or 8 dolphins that came right up to our group, mingled with the divers and explored the premises with us!
The dolphins of the Revillas seem much more curious and interactive than those found elsewhere. This image was taken at a depth of ninety feet – much deeper than I expected (and dolphins usually hold their breaths for at most six minutes, usually less).
Most of the animals were moving faster and more haphazardly than this one. It came much closer than the others and even seemed to pose for the camera!
Whilst bottlenose dolphins don't have particularly long rostra to begin with, those we saw in Socorro appeared to have even shorter and blunter ones.
The look in this dolphin's eye, purposeful position and apparent smile were captivating.
People often think that dolphins smile out of joy (and often incorrectly interpret animals in marine parks as "happy" to perform)… In actual fact, though, dolphins seem to be smiling even when they are being harmed or dead – the smile is an anatomical characteristic, permanently fixed on the species' face.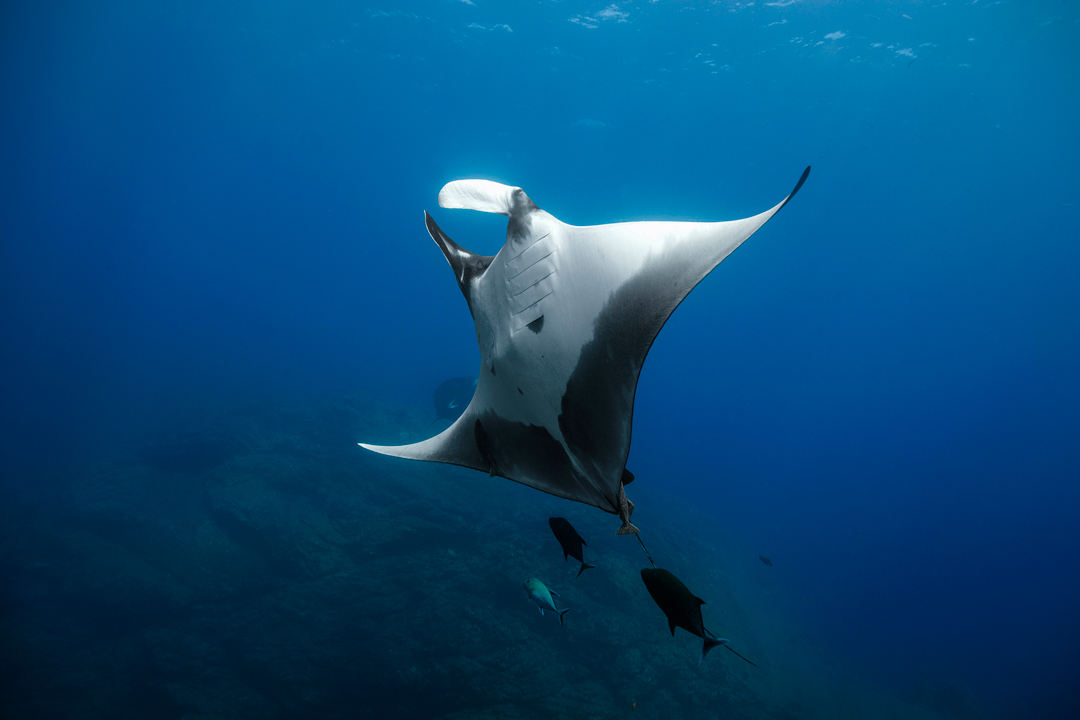 An oceanic manta ray rises closer to the surface, followed by a couple of jacks, in the Revillagigedo islands
MEXICO, FEBRUARY 2021
When white catches the light from the sun or flash it can look extremely shiny, as does the manta's cephalic lobe in this case.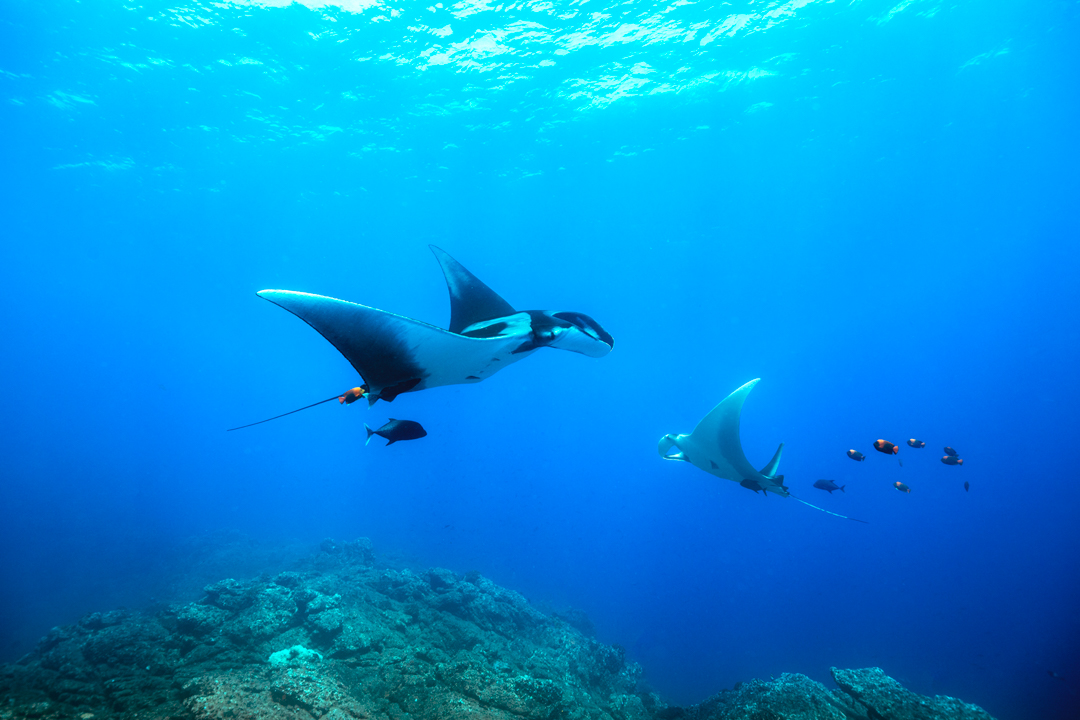 Head-to-head yet distant Oceanic manta rays, followed by jacks, at Cabo Pearce
SOCORRO, MEXICO, FEBRUARY 2021
Mantas are curious creatures. Highly intelligent, they frequently come close to observe divers. Some like to have their bellies tickled by the bubbles of a diver below them.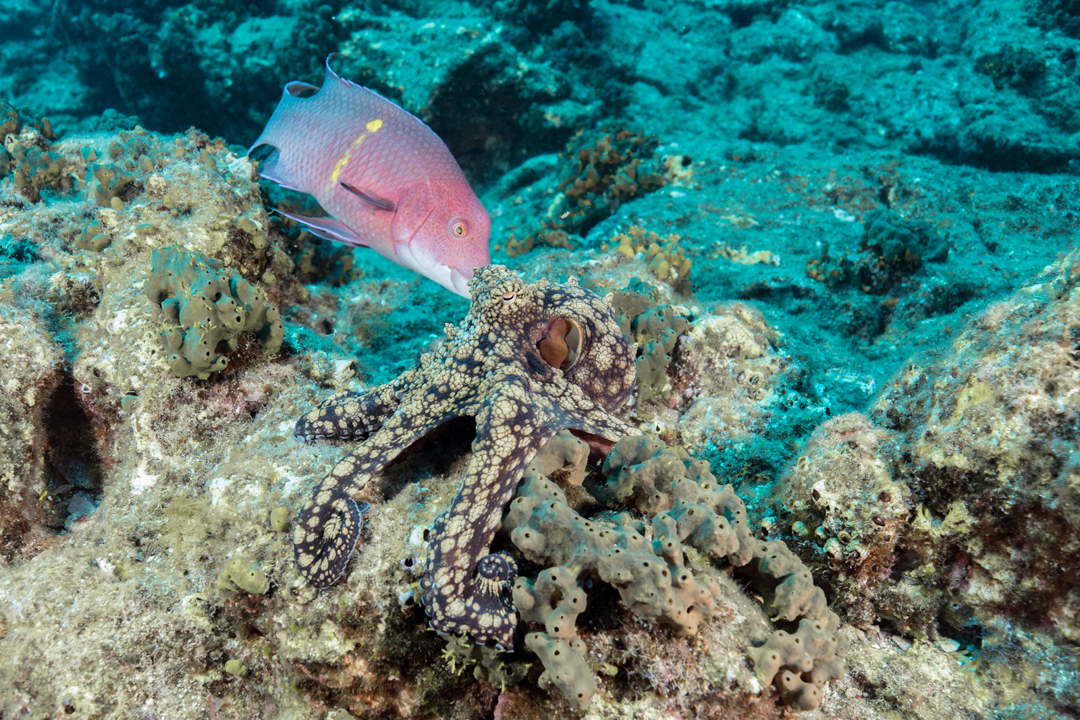 An adult male Mexican hogfish and an octopus share space in the shallows of the Revillagigedo islands
MEXICO, END OF FEBRUARY 2021
Recent evidence indicates that fish and octopi occasionally coordinate efforts to hunt together. It's not infrequent to see fish watch and interact with the molluscs when the latter are out in
the open. (Octopi spend most of their time hidden in crevices or holes). At least three different fish, including a large damselfish, visited the octopus during our time together.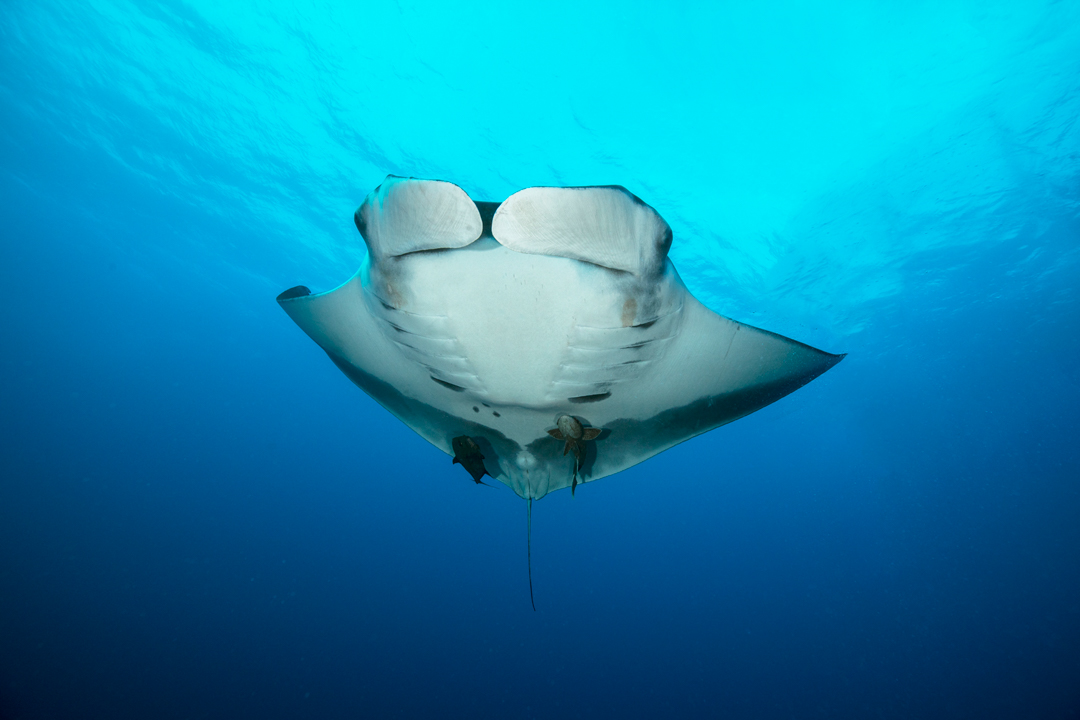 A beautiful oceanic manta ray with its cephalic lobes neatly folded below
CABO PEARCE, SOCORRO, MEXICO, FEBRUARY 2021
The appendages are used to funnel plankton into the mouth, their positions changed at will.
In this image, one can also make out two remoras at the base of the tail.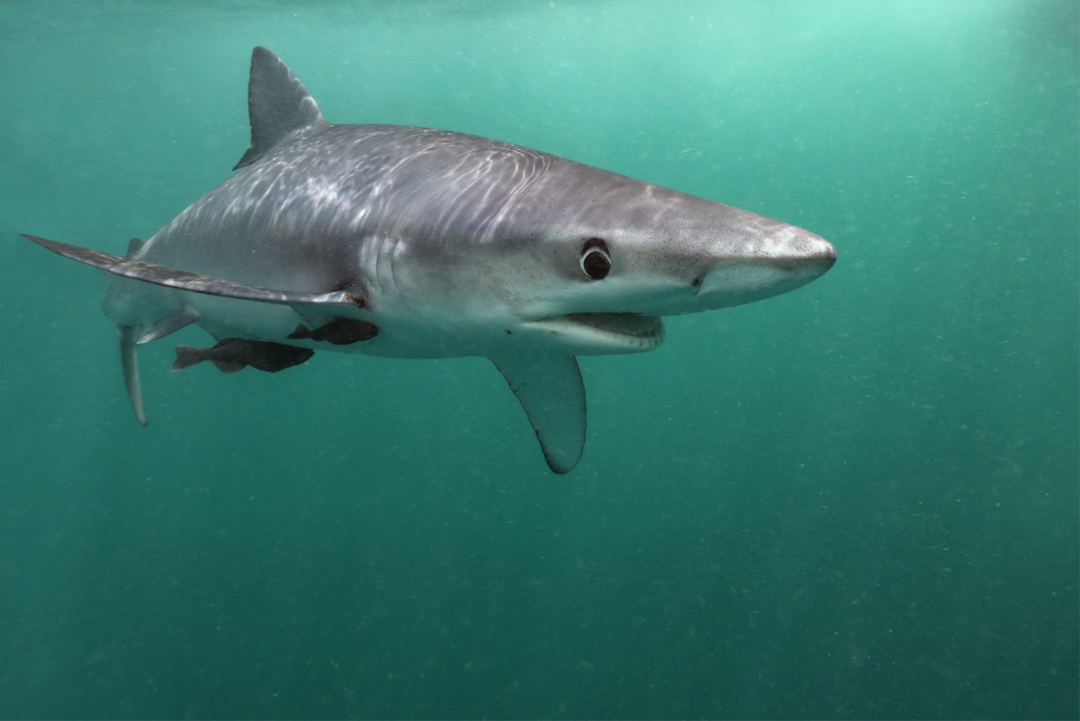 Blue sharks are among the most prolific in the world. Unfortunately their numbers are declining rapidly due to the finning industry.
CABO SAN LUCAS, MEXICO, MARCH 2021
After our trip to the Revillagigedos, Simo and I went shark diving in Cabo. Our probable models would be blue sharks, makos or smooth hammerheads.
About 5 blues showed up – my first ever.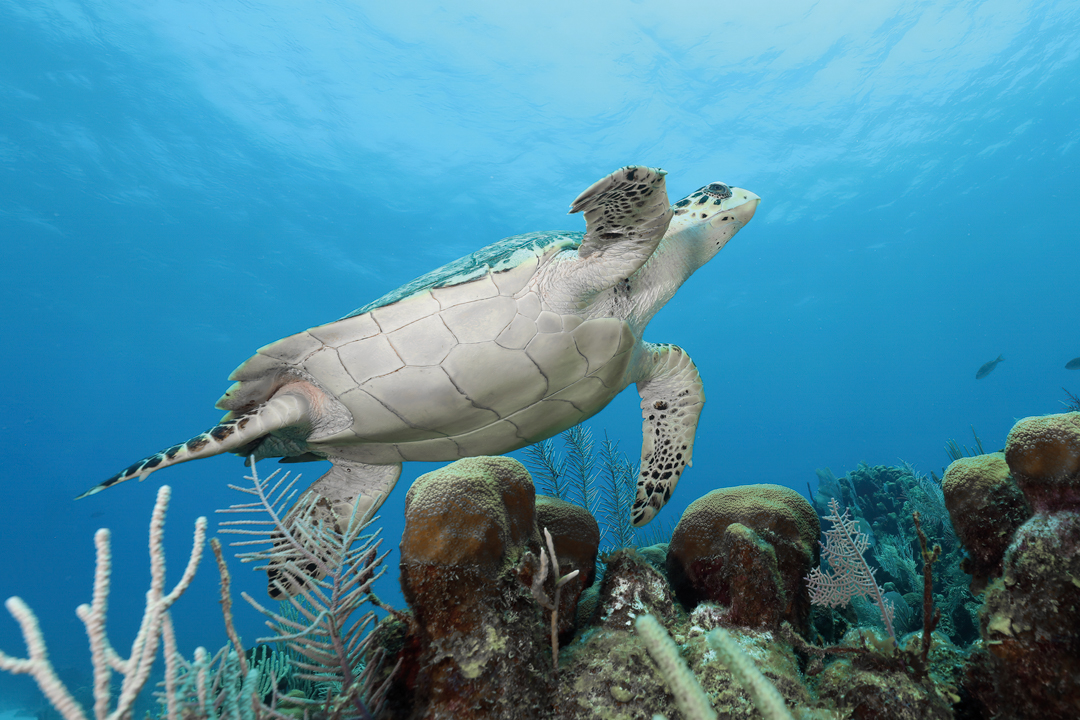 Trusting hawksbill turtle at a site near Placencia
BELIZE, APRIL 2021
This incredible animal allowed me to stay with it, swimming up and down the reef together, for a long time indeed.
This is by far the best shot of a plastron (the belly, if you will) that I have. It was also the palest and most uniform turtle underside I'd ever seen.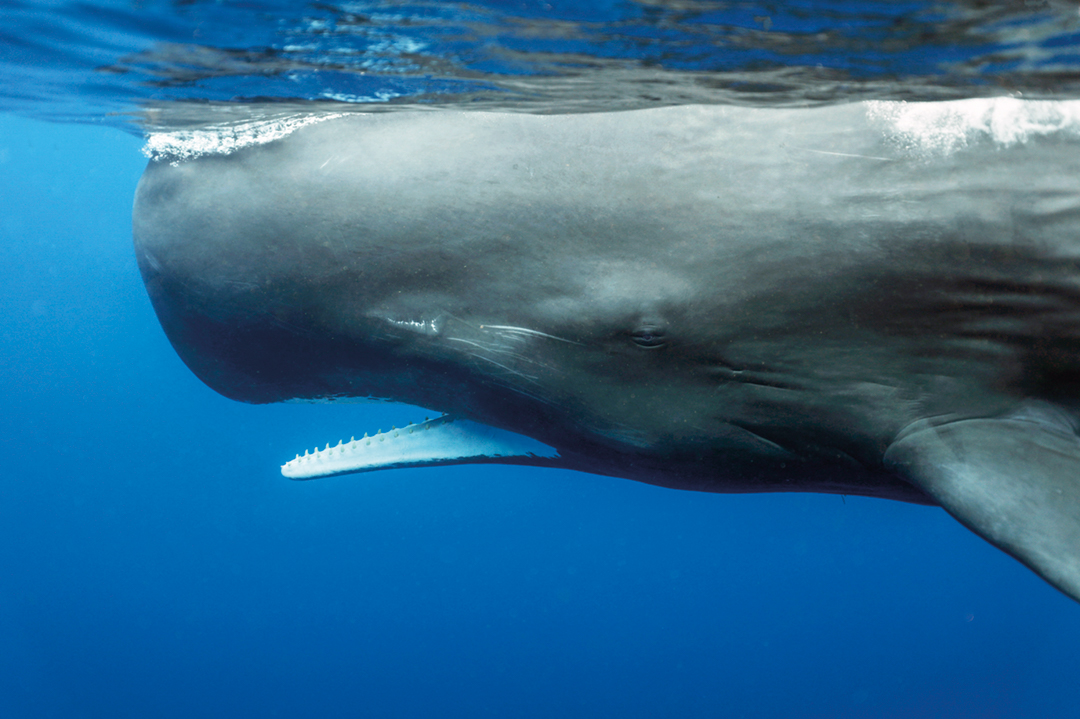 Possibly 'Can Opener', one of the most habituated, curious and friendly sperm whales in the area
DOMINICA, JULY 2021
Taken on a government permit.
Can Opener is a member of the Utensils family group – named by Shane Gero, the top researcher in the area.are nearly always in very shallow water and don't stay submerged for long, they can dive down to 30 meters and spend up to an hour underwater!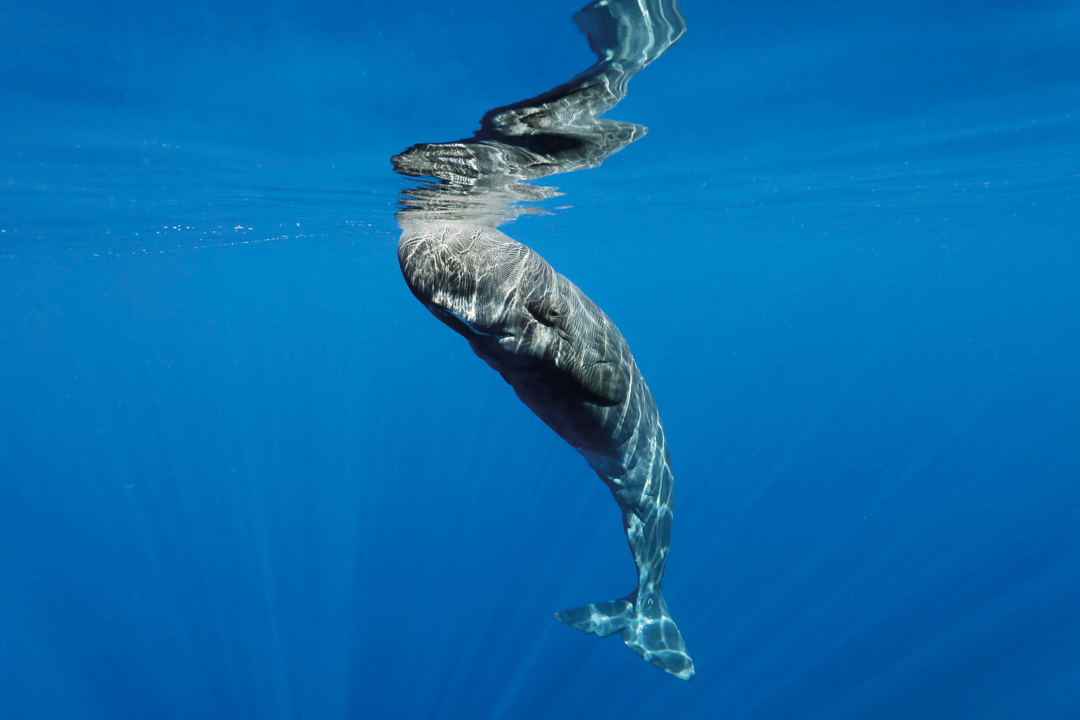 One of the best encounters ever! A sperm whale calf awaits me at the surface
DOMINICA, JULY 2021
Taken on government permit.
This ADORABLE young animal waited for me at the surface and allowed me very close for a number of minutes, an ideal situation – the best – for photography.
It was a huge change from the day before when the calf kept swimming away from me!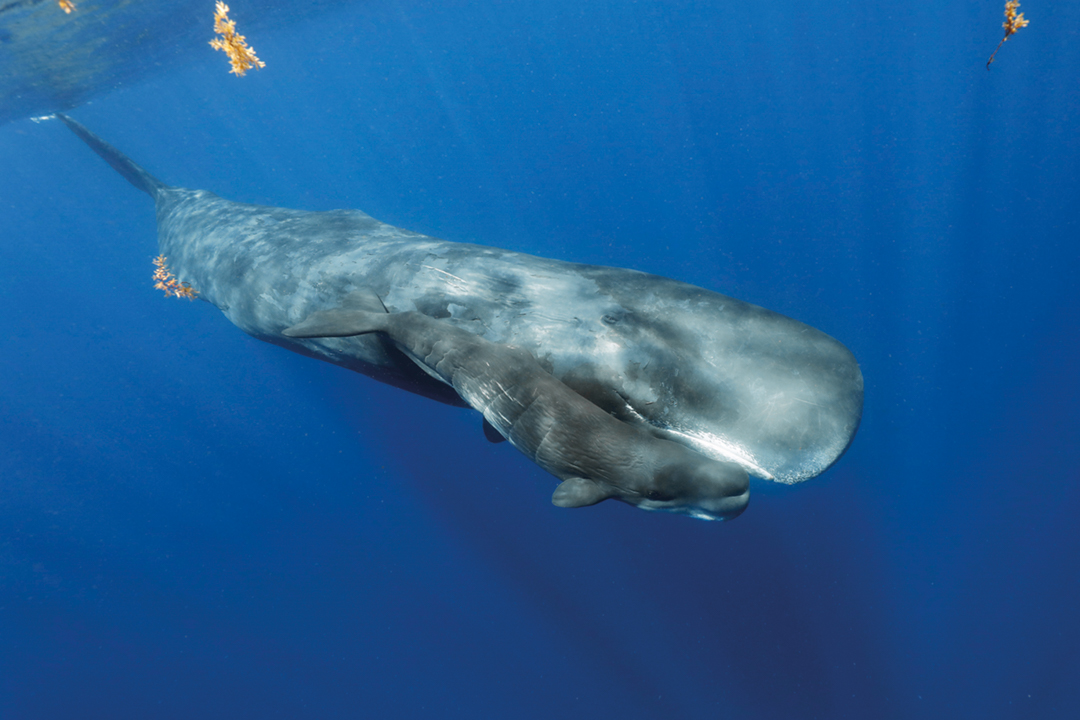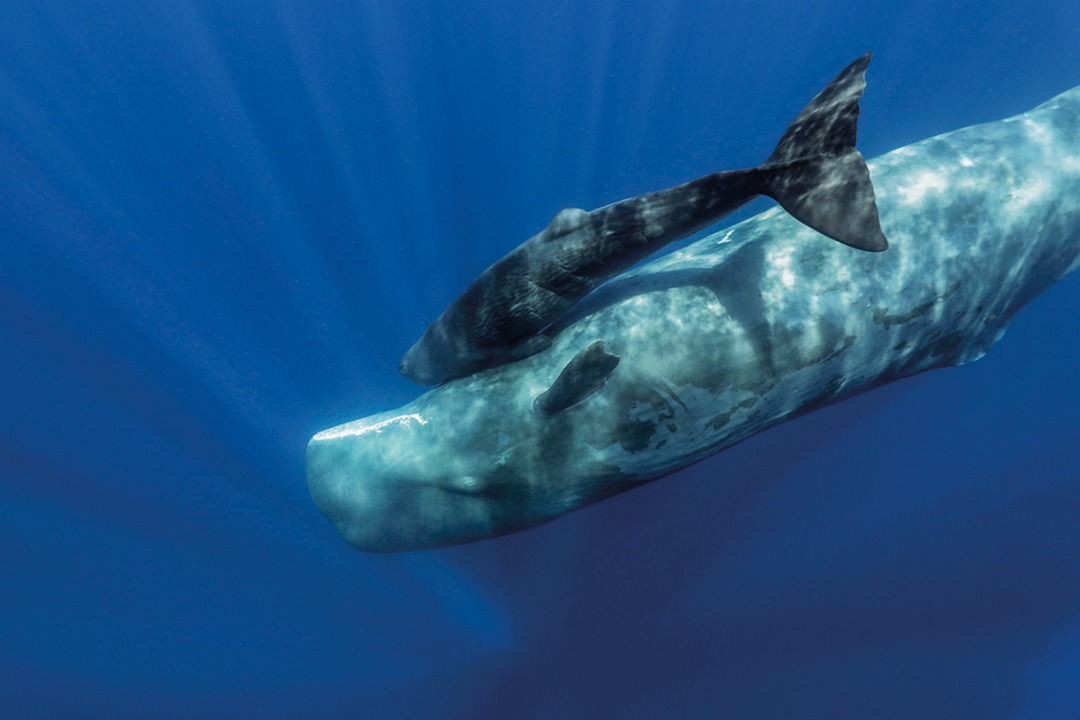 Sperm whale mum and calf
DOMINICA, JULY 2021
One of the most beautiful things I've ever seen.
You can tell from the folds on the calf that it is still extremely young.
Moments and sights such as these are practically indescribable...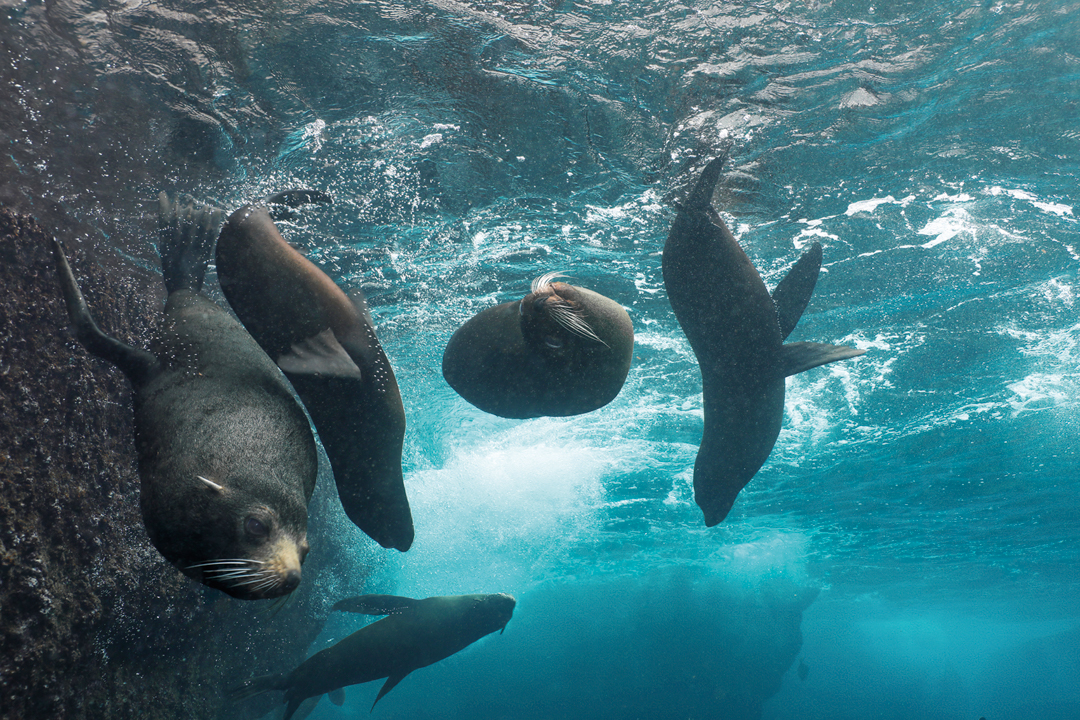 Fur seals playing in the surge
WOLF, THE GALAPAGOS, AUGUST 2021
It's very hard to get decent images of these guys despite the fact that they're not skittish. The surge and their own movements create innumerable little bubbles that all too frequently fill the frame or ruin the nicest parts of a photograph.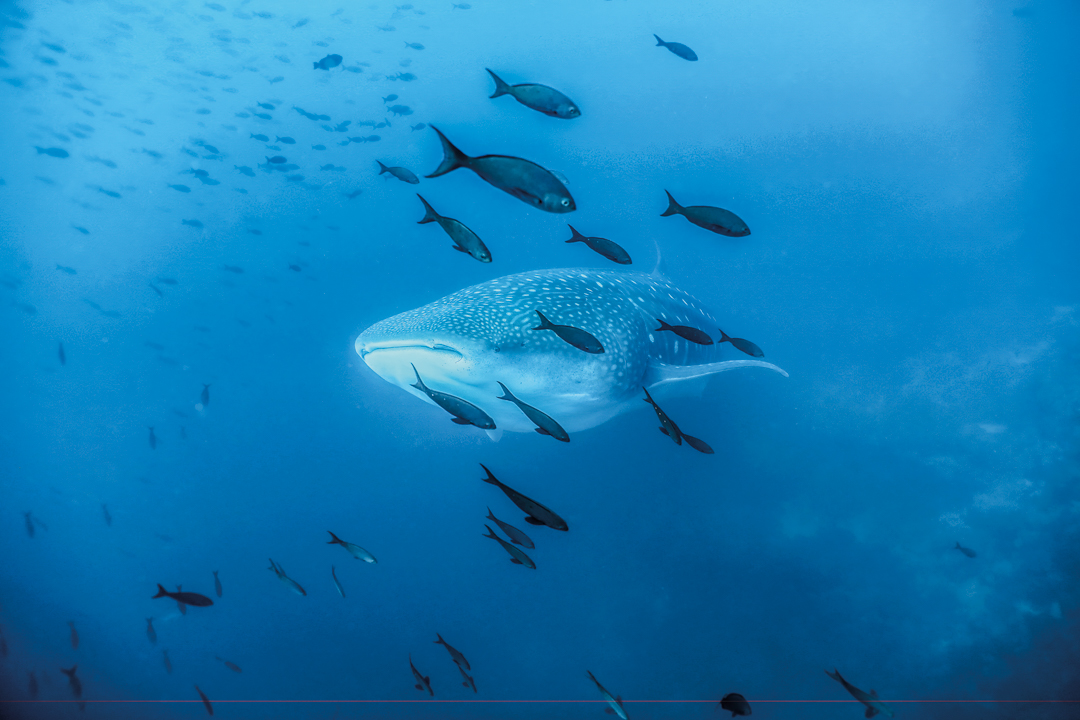 A whale shark comes in
DARWIN, THE GALAPAGOS, AUGUST 2021
Our first two days at Darwin we saw one or two every dive; but unfortunately that was it – no more for the rest of the trip. We were extremely lucky to see one off- season in February 2022, though...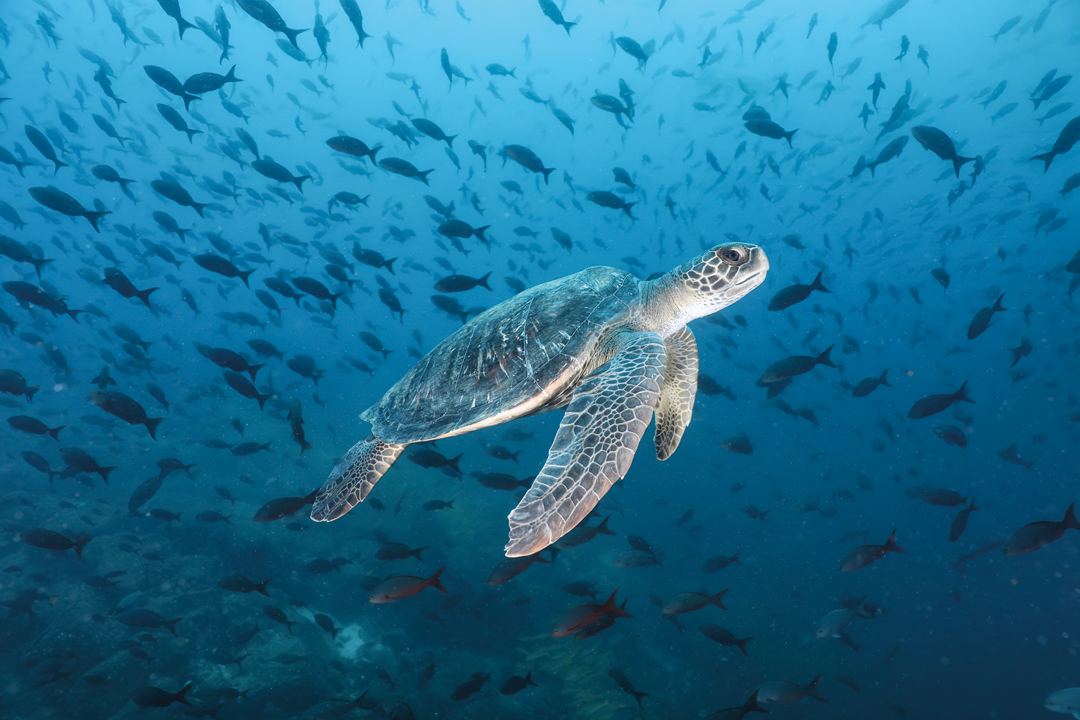 A green turtle surrounded and framed by a myriad creole fish
DARWIN'S ARCH, THE GALAPAGOS, AUGUST 2021
This animal seemed to know exactly where to place itself in the water column to make for a nice photograph!
Every position added an interesting element... and every frame came out wonderfully.
Some animals almost appear proud; some seem distinguished. That was the case with this turtle.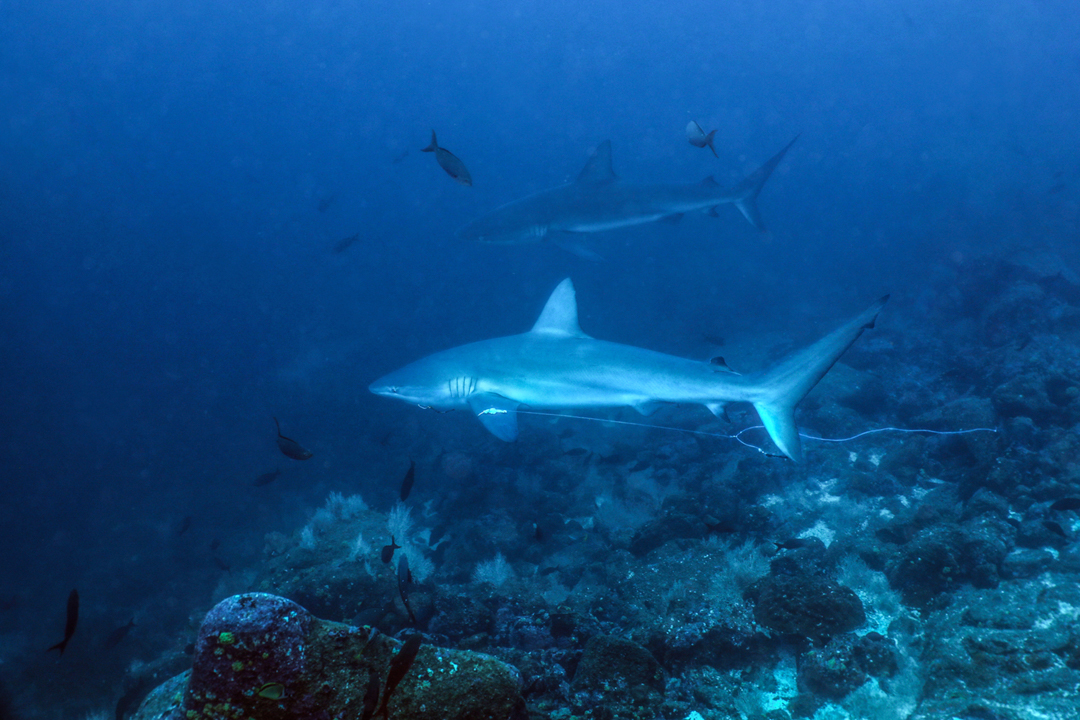 Galapagos sharks at Darwin or Wolf
The closer one is visibly hurt and encumbered by a fishhook and line
THE GALAPAGOS, AUGUST 2021
The number of wounded or scarred sharks we see under the surface is rather horrific — and not least because we frequently run into wounded animals even in protected waters…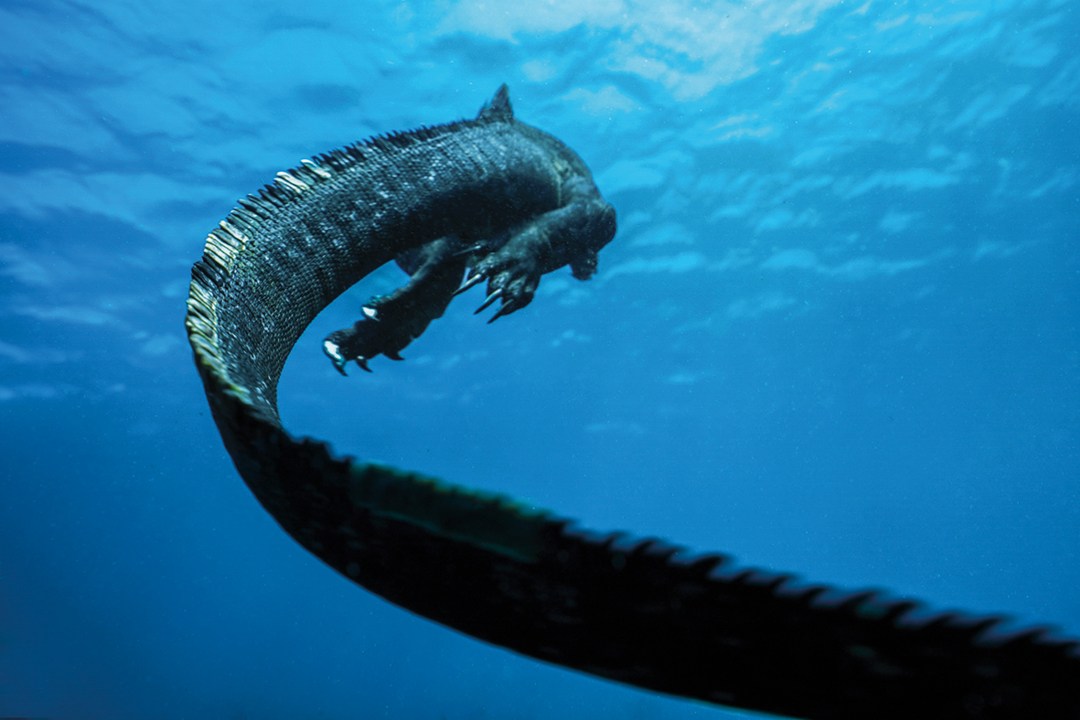 Marine iguana tail
CAPE DOUGLAS, THE GALAPAGOS, AUGUST 2021
It would have been hard to guess how this image would turn out when I shot it...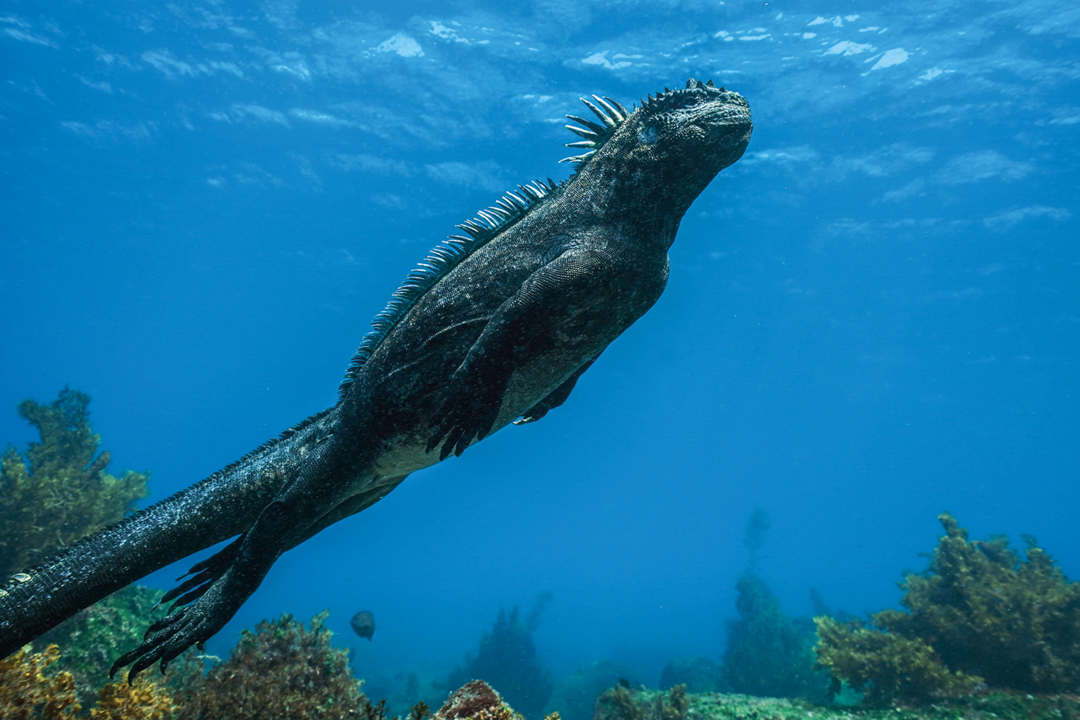 A marine iguana launches itself towards the surface for a breath
CAPE DOUGLAS, THE GALAPAGOS, AUGUST 2021
Truly unique and fascinating to watch, marine iguanas are clumsy swimmers that range from 12 to 56 centimeters in size, are endemic to the Galapagos and feed on algae in the intertidal zone. Although they are nearly always in very shallow water and don't stay submerged for long, they can dive down to 30 meters and spend up to an hour underwater!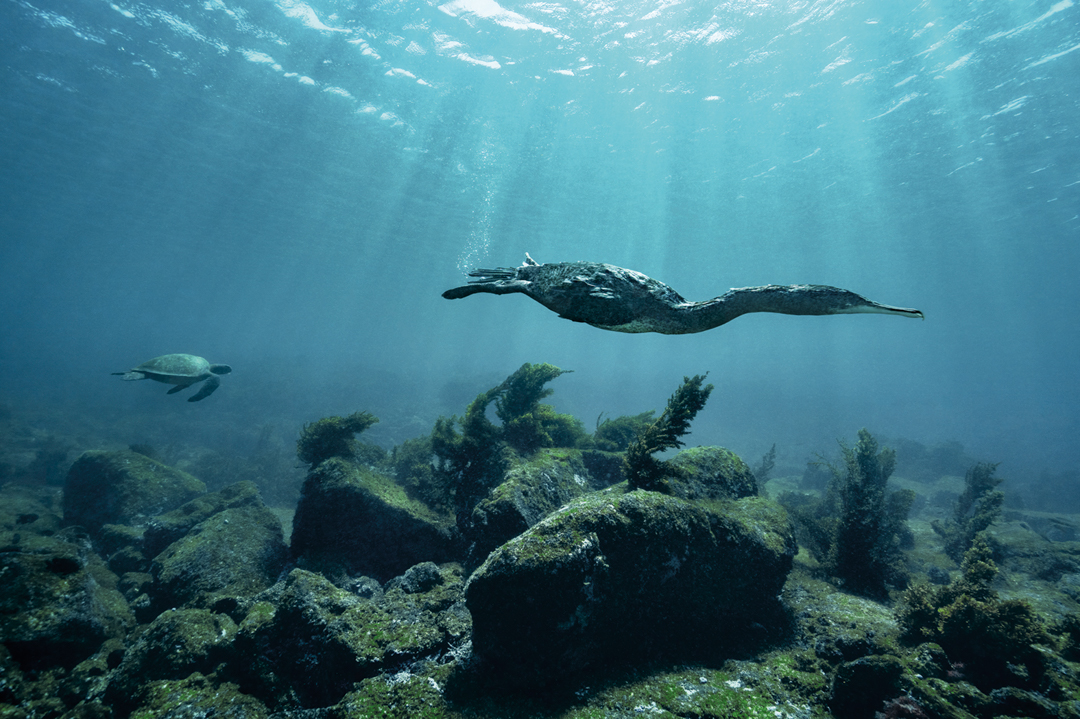 A cormorant shoots through the water as a green turtle slowly swims in the distance
CAPE DOUGLAS, THE GALAPAGOS, AUGUST 2021
This is one of my favourite photographs of all time – certainly the best one from the summer of 2021.
Cormorants move very fast and it felt very lucky capturing this. The wonderful setting is nice as well...
The bird arrived completely unexpectedly. It was gone as quickly as it came...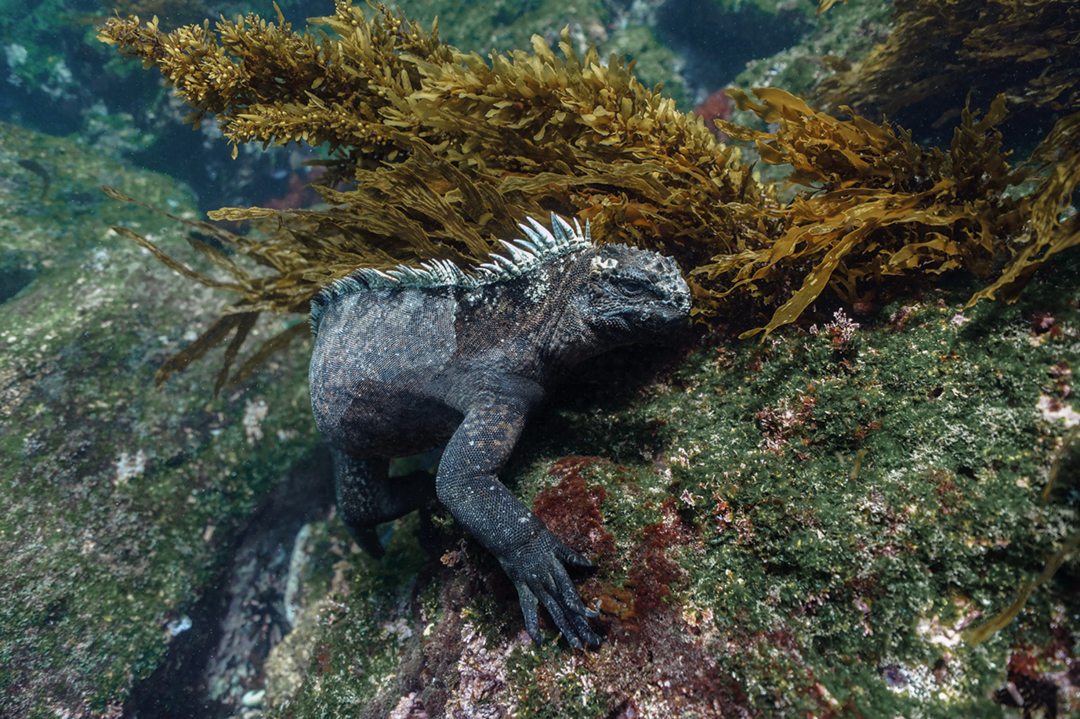 "Godzilla out for lunch!" A marine iguana gripping a rock in-between grazing sessions!
CAPE DOUGLAS, THE GALAPAGOS, AUGUST 2021
The iguanas swim and feed in the surge. They need to dig their claws into the algae or rock in order not to be knocked over or swept away by current.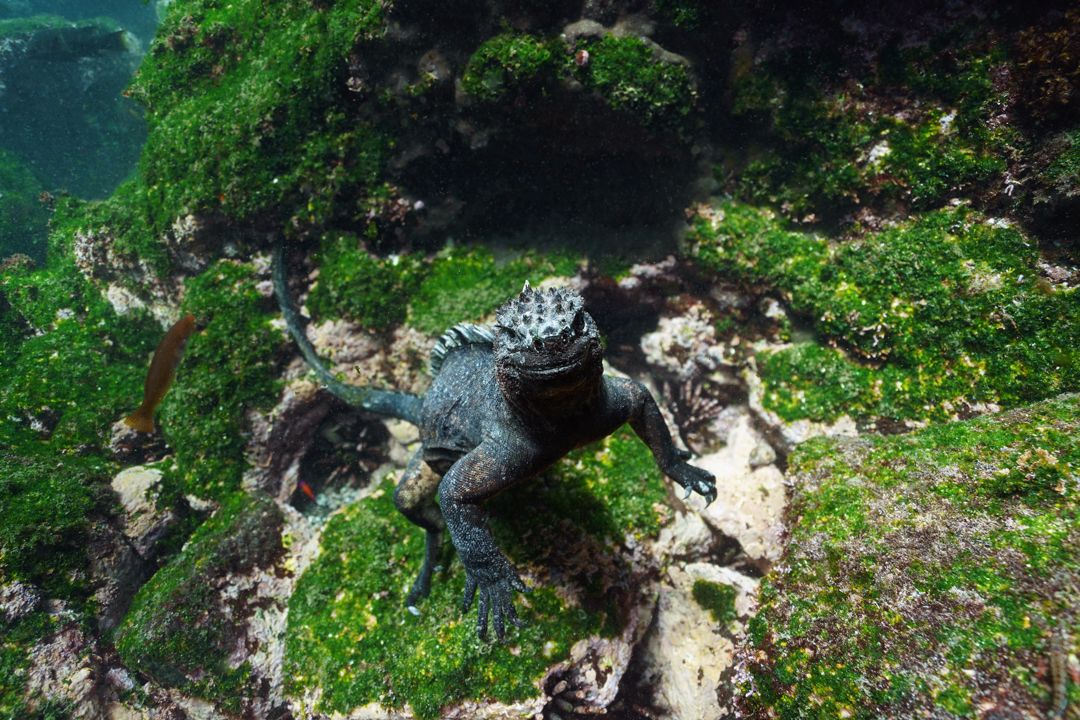 "The rise of Godzilla"
Marine iguana
CAPE DOUGLAS, THE GALAPAGOS, AUGUST 2021
As if being endemic to the Galapagos, being the only lizard that feeds underwater and possessing the ability to sneeze salt wasn't enough, the look and general behaviour of marine iguanas are absolutely unique.
This specific individual was slowly preparing to launch itself towards the surface to breathe or sunbathe on the rocks.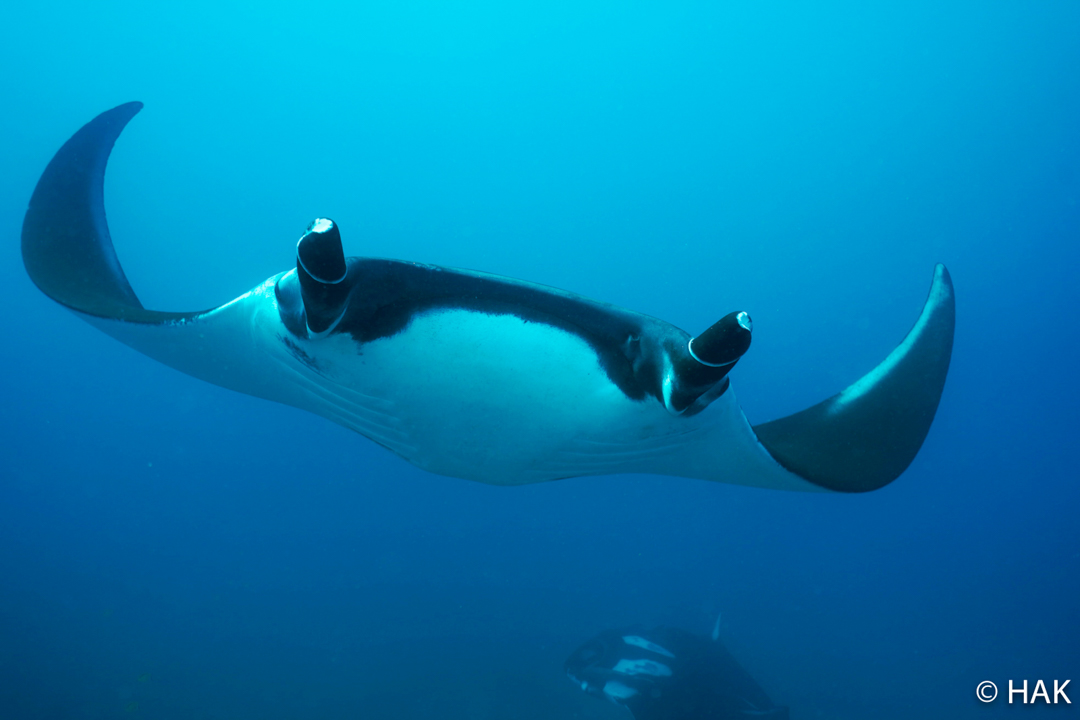 Frontal view of a manta ray, its cephalic lobes curled up, gliding in the waters of Isla de la Plata
NEAR PUERTO LOPEZ, ECUADOR, SEPTEMBER 2021
Up to an estimated ten thousand oceanic mantas visit the area each summer. Approximately 2000 have been catalogued and identified as repeat visitors.
We had up to maybe 5 mantas a dive during the trip. Most of the time they kept their distance from each other, so photographs like this one with two animals in the frame were rare.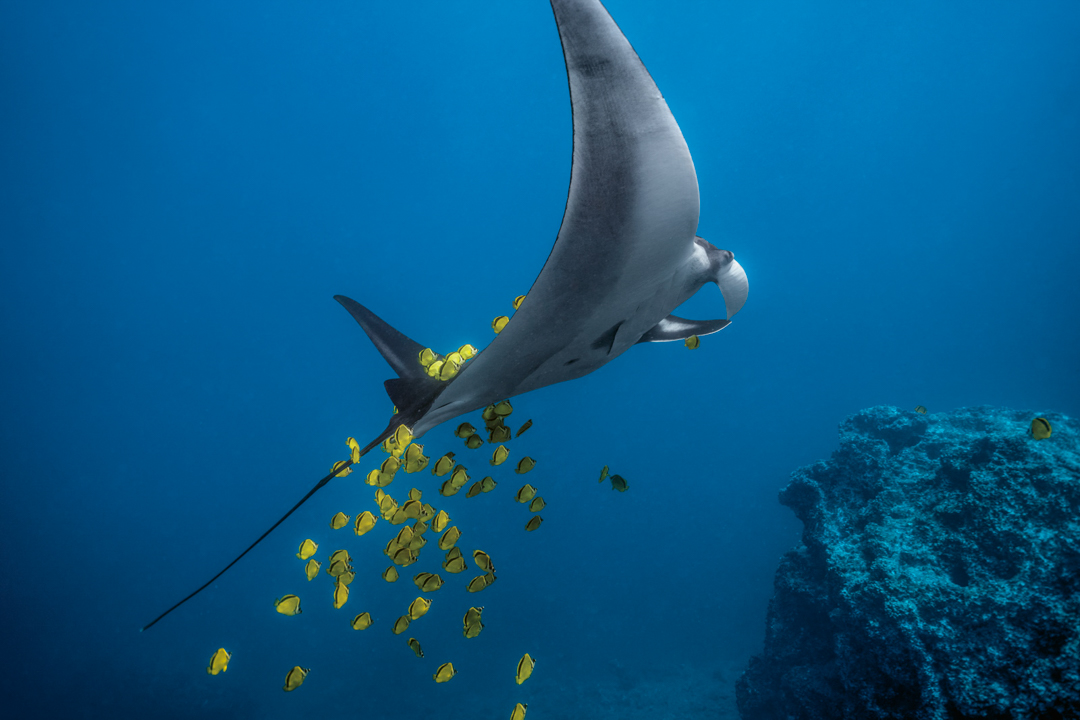 Barber fish, a yellow species of butterflyfish, falling away and dispersing like golden nuggets as an oceanic manta ray rises above and away from a cleaning station
ISLA DE LA PLATA, ECUADOR, SEPTEMBER 2021
There are five species of fish that are known to "clean" the mantas. The list includes king angelfish; but by far the most common cleaners we saw were these barber fish.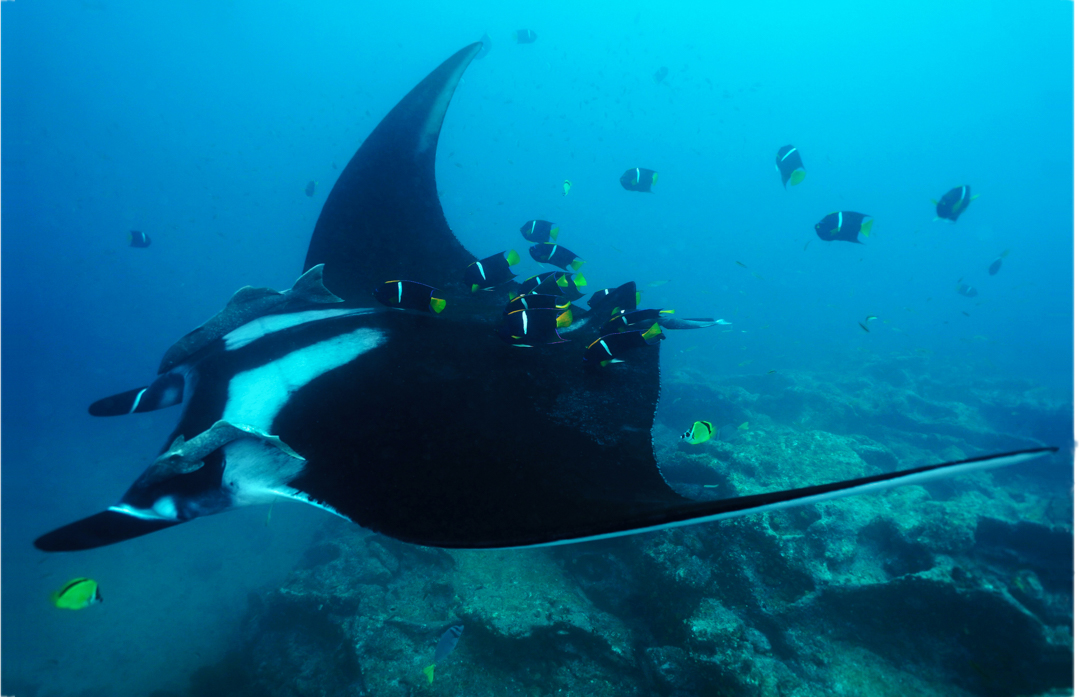 Angelic manta!
ECUADOR, SEPTEMBER 2021
The main manta person in Puerto Lopez on the coast of Ecuador mentioned that five species of fish are known to clean the local oceanic mantas. We usually saw barber fish on the job, but a few times it was king angelfish we witnessed doing the cleaning. King angels are already beautiful; but watching them hover over and pick at a ray's back was extra special.
It's a shame that flash only travels about 5 feet underwater – the colors here could be nicer.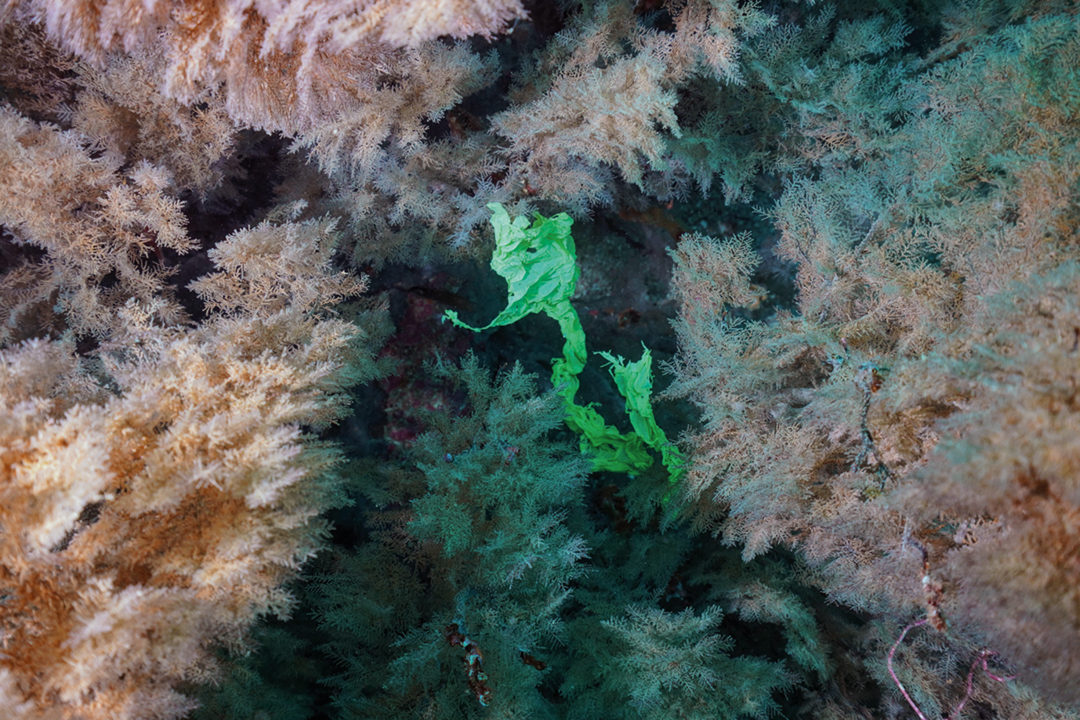 Plastic waste among soft coral
ECUADOR, SEPTEMBER 2021
I have now seen garbage in the water or on the beach on practically every trip the last 5 years. From sargassum patches off Florida to beaches in Morocco and Sardinia, open water in the Philippines, the seafloor in Egypt and more. Ecuador was no exception. And plastic bottles are still sold in places as admired and regulated as the Galapagos!
These are nothing like the seas of my youth...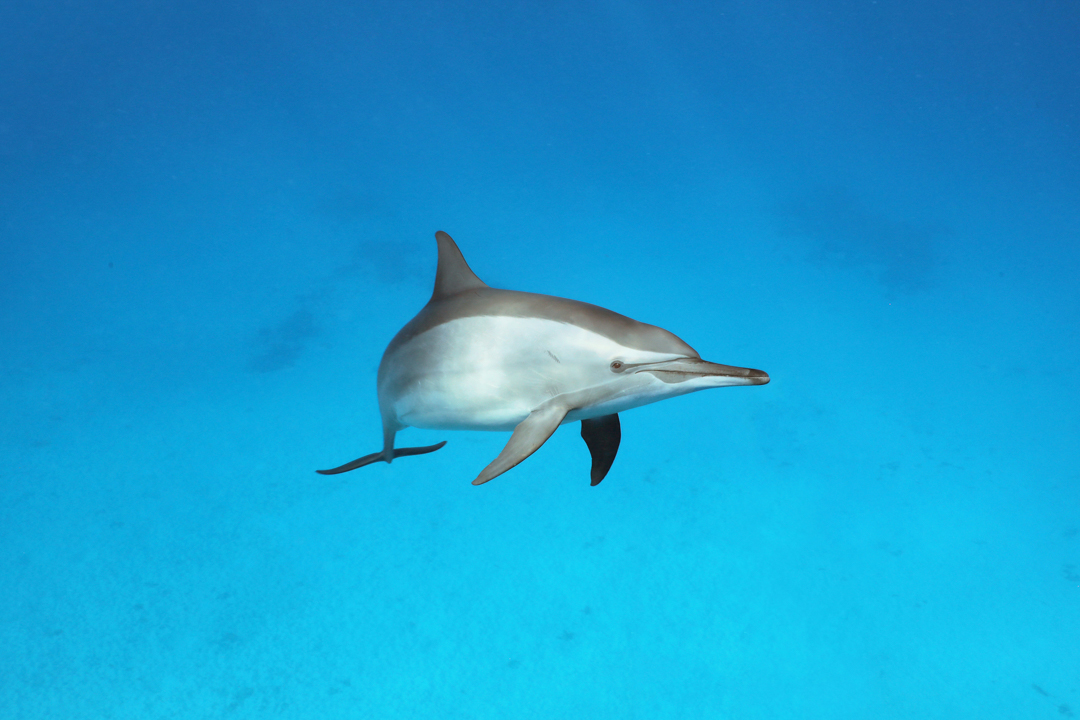 "Lone Star"
A centered individual spinner dolphin comes close
SATAYA, EGYPT, NOVEMBER 2021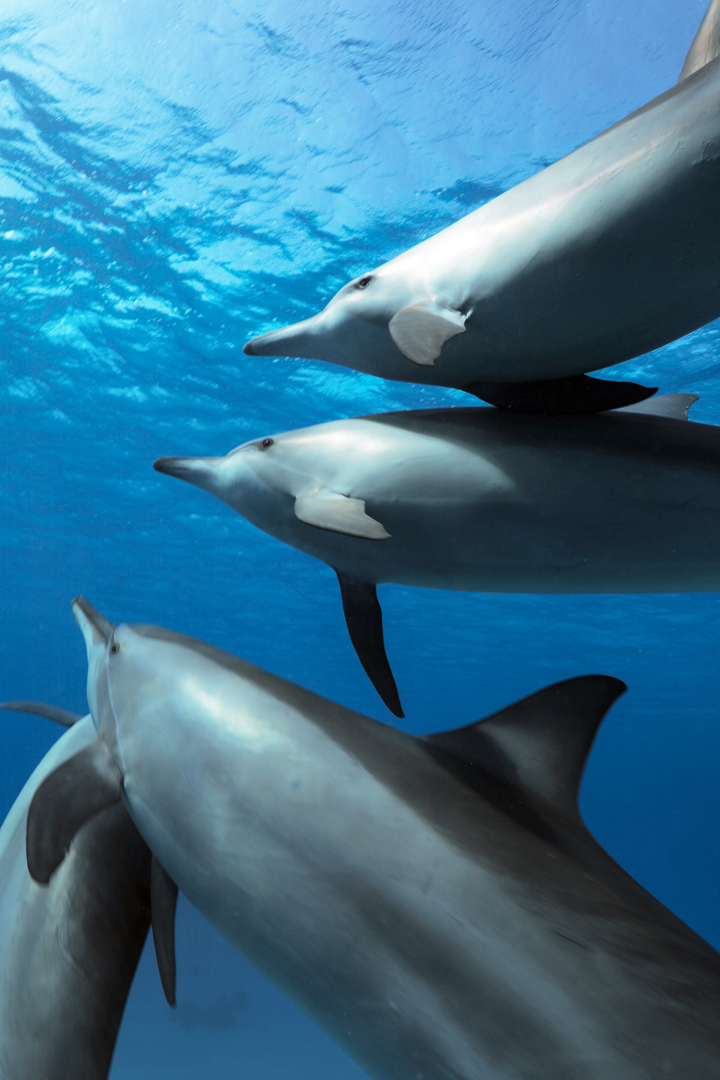 Becoming part of the pod
SATAYA, EGYPT, DECEMBER 2021
One of the nicest views from last season in Sataya. Just a few feet under the surface and briefly among about seven dolphins, the best images are of three or four of them. It's incredible how shiny spinner dolphins seem in the light. These ones were close enough to touch.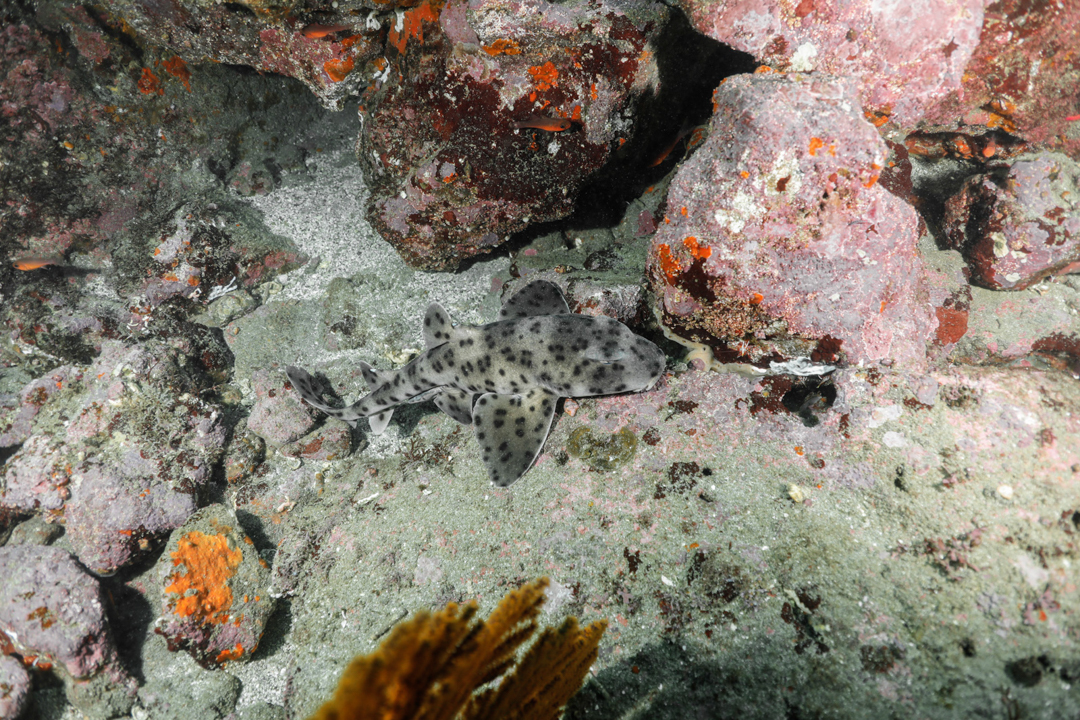 A Galapagos bullhead shark rests on a ledge at Punta Vicente Roca
THE GALAPAGOS, FEBRUARY 2022
I had never seen one of these before, and so this was a very exciting experience for me... Only about nine species of bullhead or horn shark exist. The one we see most frequently in the media is the Port Jackson shark from Australia.
Other species include the Japanese and Oman bullhead sharks and the Mexican horn shark.
This guy was maybe 25 meters down and quite small. This species only reaches a meter in length.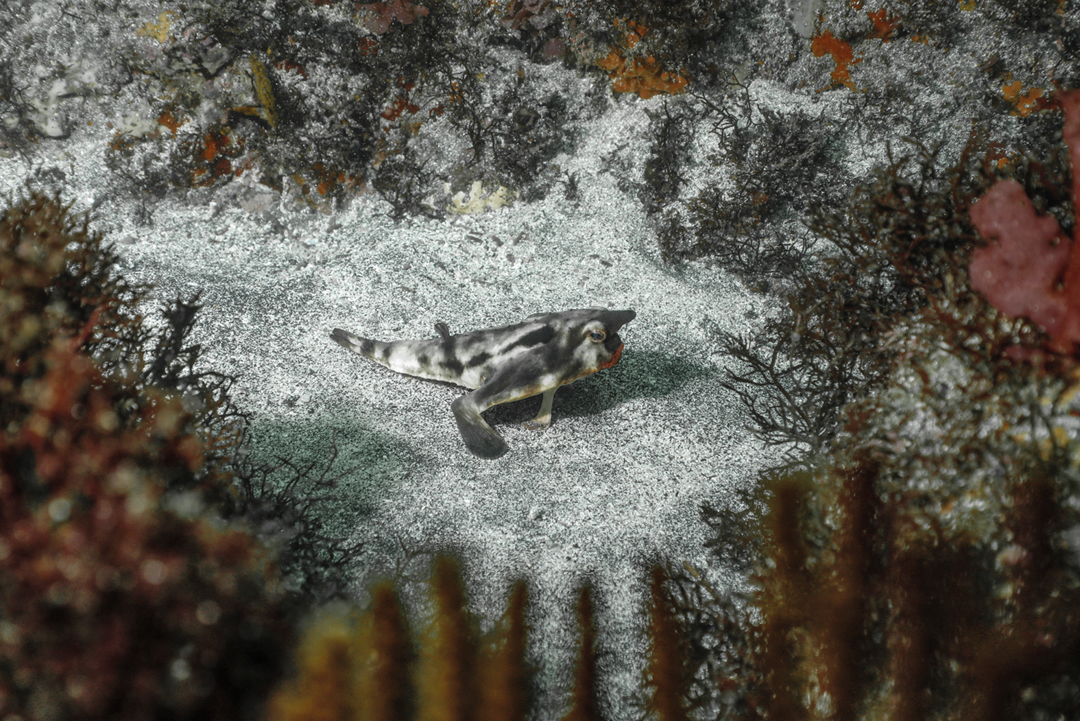 Red-lipped batfish
ISABELA, THE GALAPAGOS, FEBRUARY 2022
You have never seen – and could not imagine – such a bizarre and, if I may say, ugly creature in your life! Looking part amphibian and part reptilian, actually standing on leglike fins, these mind-boggling fish have bright red lips.
They live fairly deep – thirty meters or so down – off Darwin but also Isabela, and they are very clumsy swimmers that look like they're waddling in the water. Fairly shy, they can actually pick up speed when they want. This one swam away from me repeatedly during our photo session.
He didn't like me very much...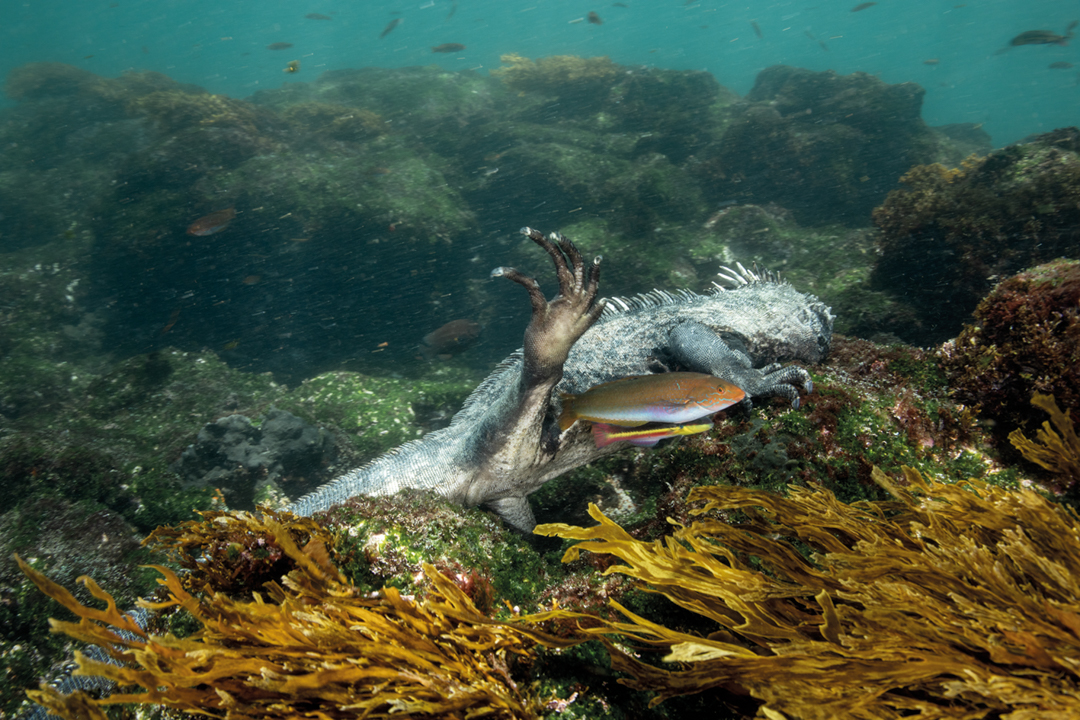 What do you call this behaviour in a marine iguana? Stretching? Calisthenics? !! Was it trying to scare the wrasse away?
CAPE DOUGLAS, THE GALAPAGOS, FEBRUARY 2022
These animals are pushed and pulled by the surge and need to stay rooted in order to graze on algae.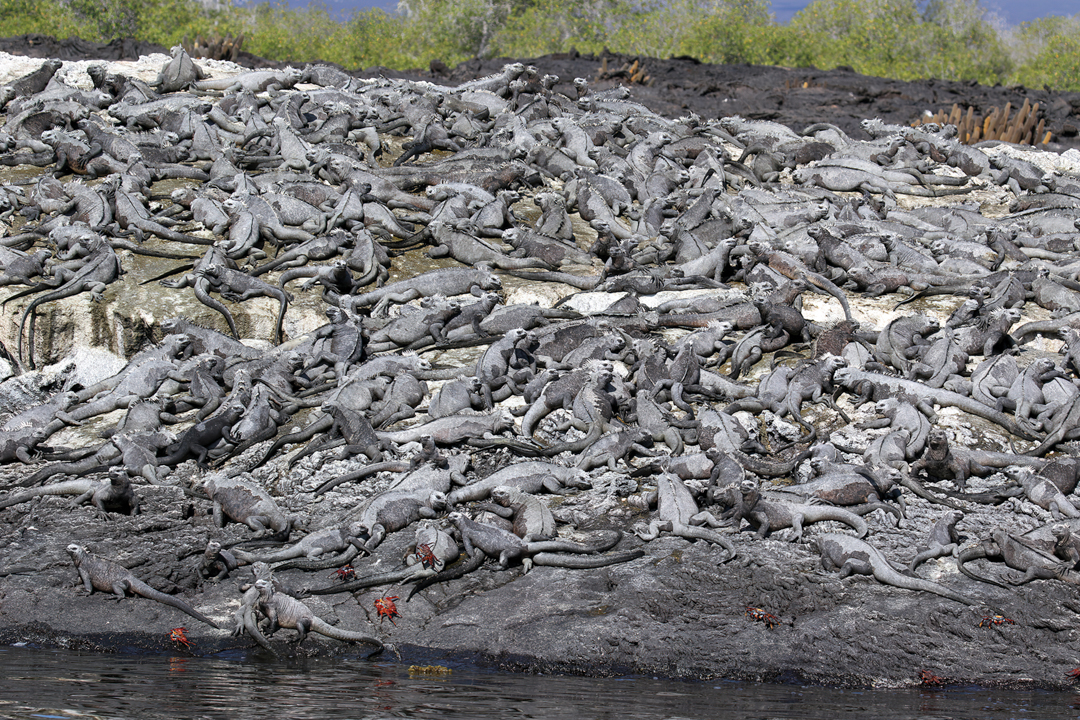 A marine iguana colony adjacent to wonderful mangroves
THE GALAPAGOS, FEBRUARY 2022
Marine iguanas actually sneeze salt! They need to warm up in the sun after feeding in very cold water – and they often huddle together, which also helps keep them warm.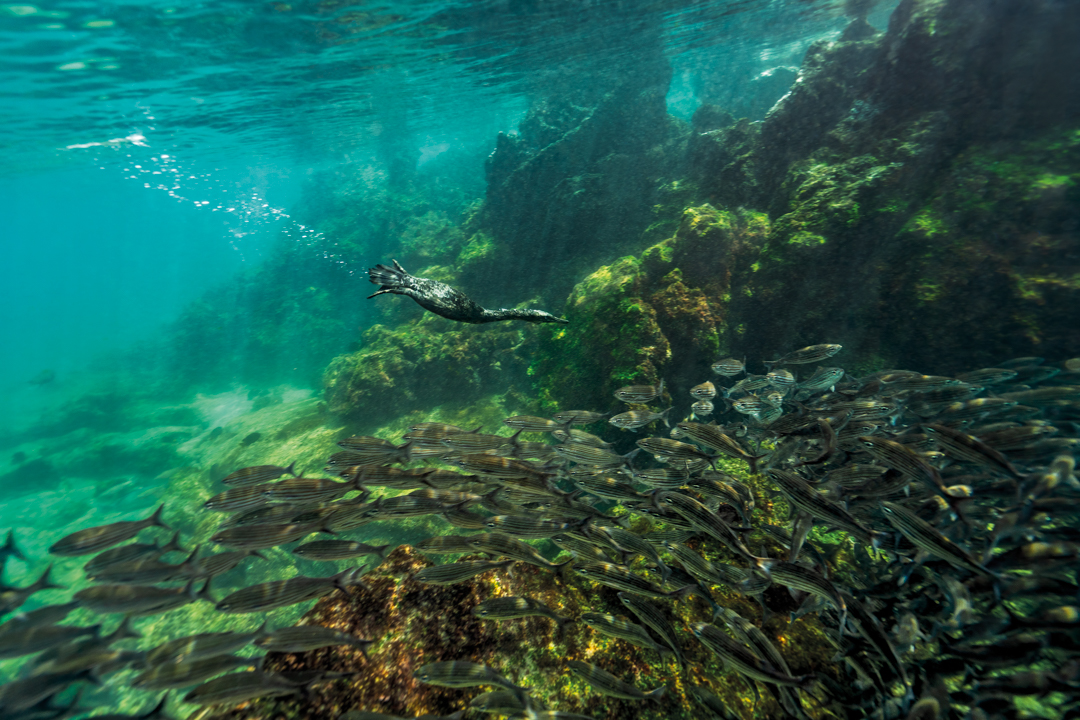 A flightless Galapagos cormorant hunts fish in the shallows of a small bay
THE GALAPAGOS, FEBRUARY 2022
It was an amazing experience, a rarity, to watch a cormorant, one that has tiny wings and looks a little odd outside the water, hunt in front of us.
We never saw it catch a fish but it was certainly determined in its efforts...
Most of the images came out somewhat blurry (cormorants are very fast) and the exposure wasn't perfect. This image is a little enhanced.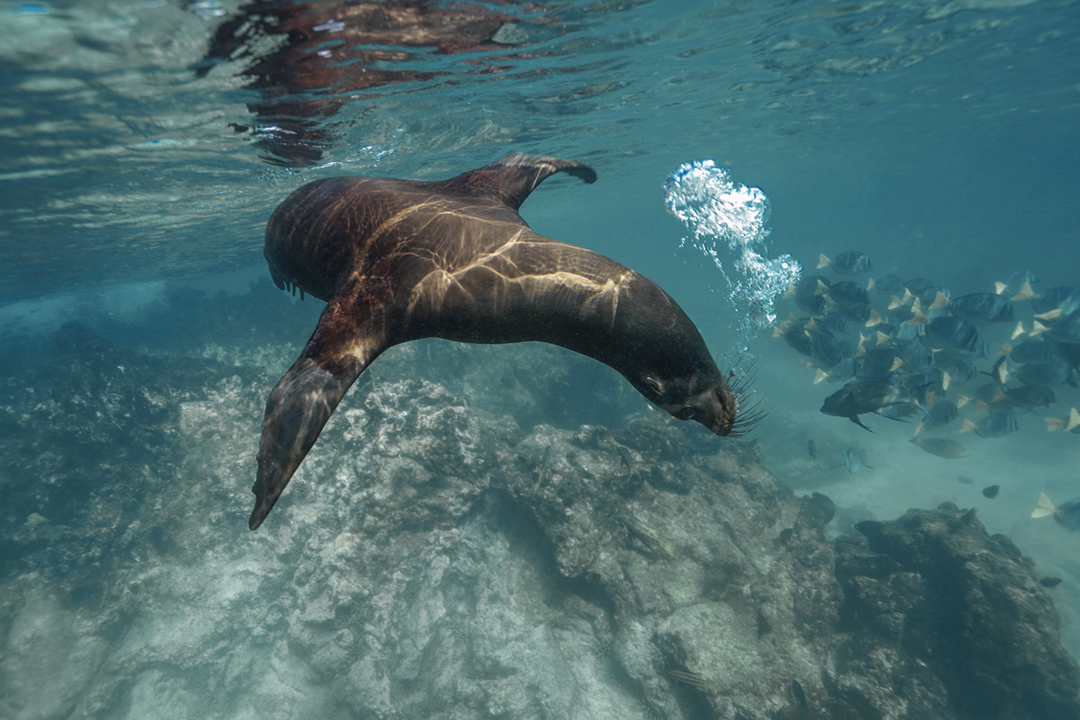 "Bubble Blower heading to school" Sea lion and surgeonfish
ISABELA,THE GALAPAGOS, FEBRUARY 2022
Sea lions are by far the most playful animals you can encounter under the surface.
Equally jovial, if not more so than dolphins or whale calves. Highly interactive and endlessly entertaining, they dart about, blow bubbles, dive and rise, rush you, come right up to your face and stare at you, even nibble at your fins and hair, pull at your equipment or sit on your tank!