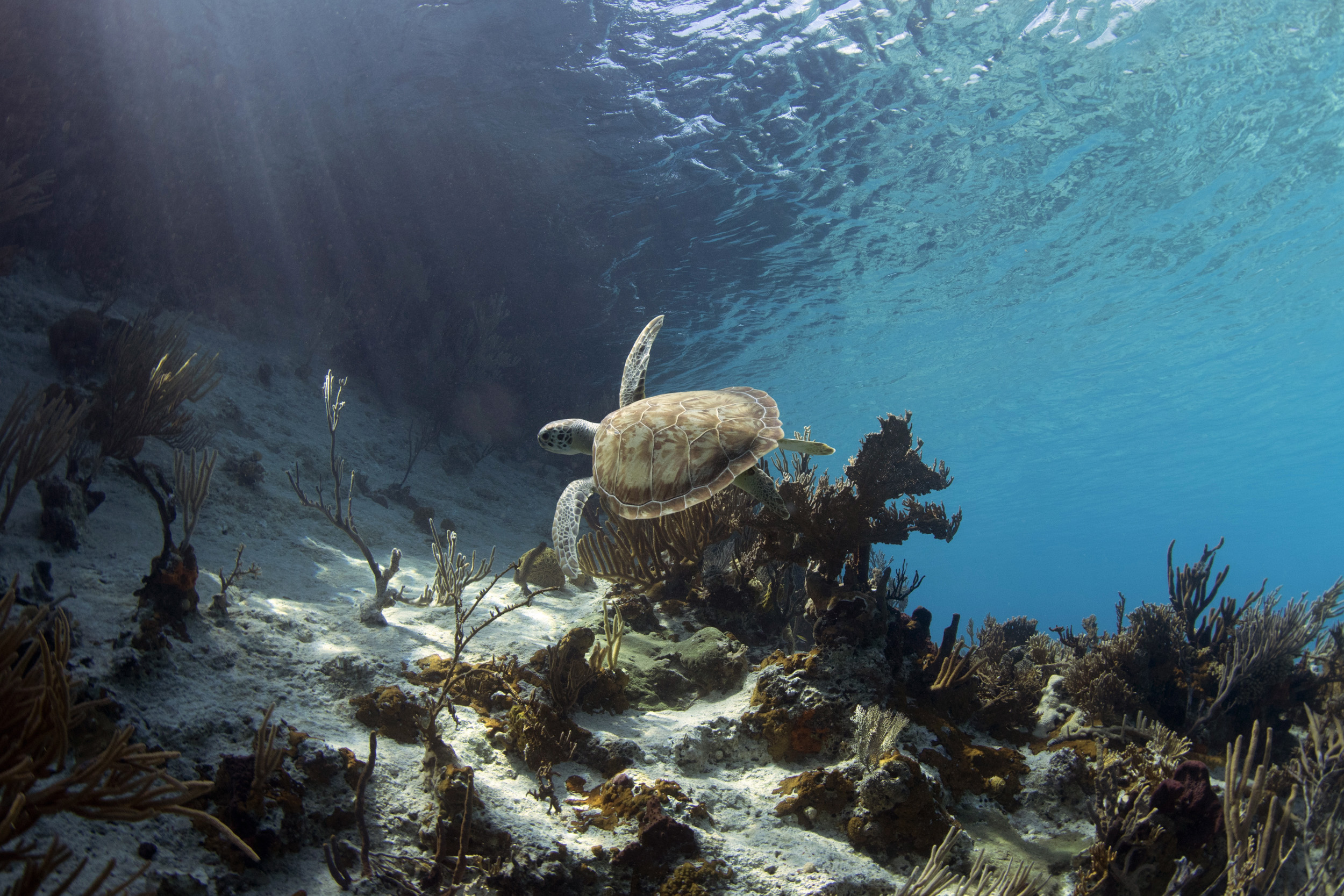 MEDIUM-SIZED GREEN TURTLE WITH A BEAUTIFUL SHELL I AFFECTIONATELY CALL "MATILDA". IN SURFACE LIGHT RAYS AT THE SITE CALLED THE AQUARIUM IN THE EXUMAS. APRIL 2017

She is resident at this popular snorkeling and diving site.
This image is from April 2017; but I visit my beautiful friend on a very regular basis, maybe 20 times a year. She is a phenomenal model! Not shy at all, on a lucky day she'll let you swim with her, very close, for half an hour or more. "The Aquarium" is a very shallow site, so your air lasts a long time — more than long enough for a lengthy swim with Matilda or one of her reptilian friends.

Green turtles, like all other turtle species, are endangered. But I believe greens are the most common. Shell color varies greatly among regions and animals. In the Galapagos green turtle shells
sometimes seem virtually black, whereas in a few Hawaiian bays there are turtles rumored to have whitish shells. Barnacles and algae sometimes grow on shells, making some look darker and/or dirtier than others…
The green turtles with the nicest shells I see in the Bahamas, such as the one in this photograph, tend to be small or medium size — so presumably on the young side.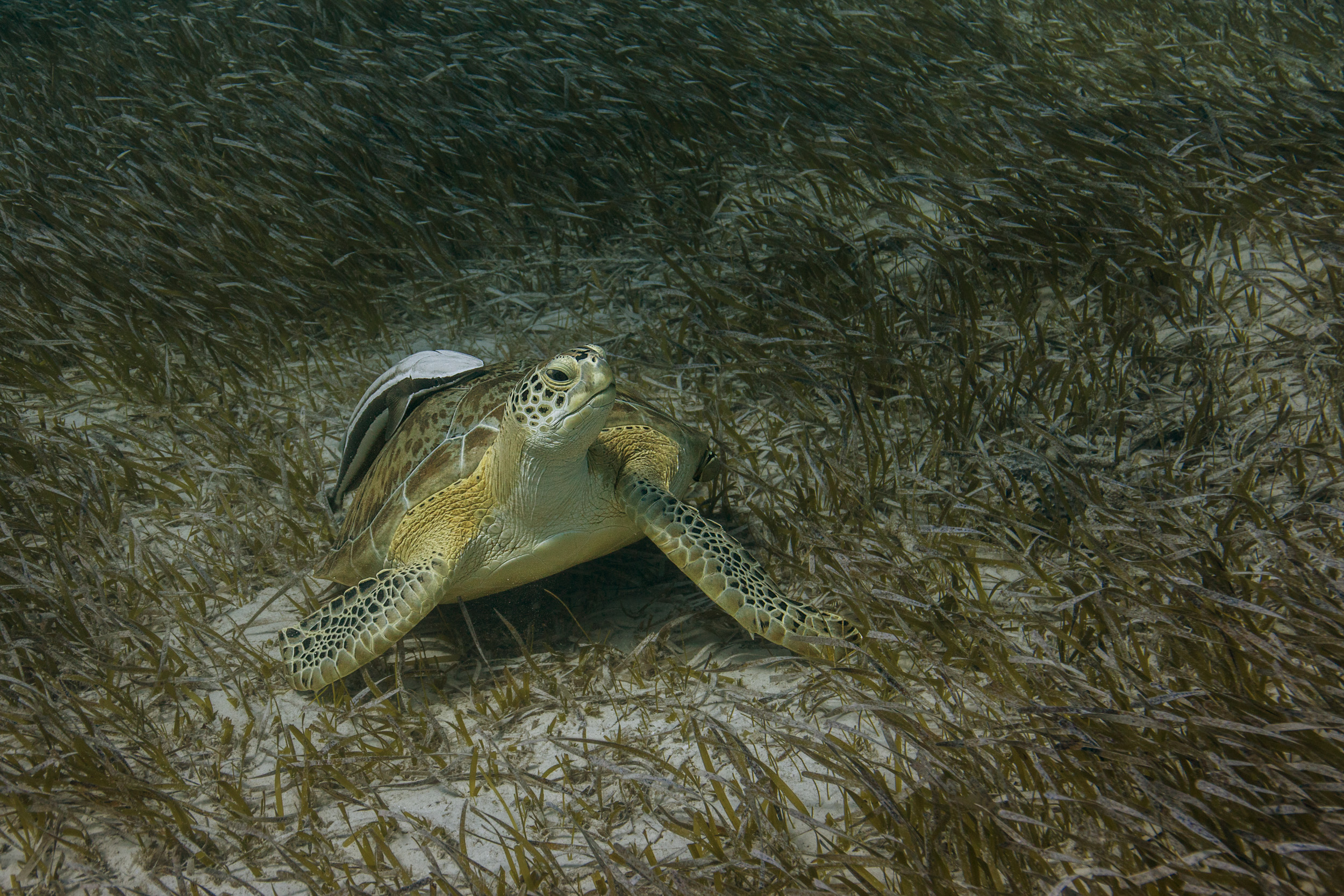 GREEN TURTLE WITH REMORA
JEEP REEF, EXUMAS, APRIL 2016

Seagrass comprises a significant amount of a green turtle's diet…

People who dive this site (Jeep Reef, famous for a sunken and coral-encrusted jeep or 2), myself included, are lucky to see green turtles on a regular basis. And while some will swim away in a panic at the sight of a bubble even 15 meters away, others are very calm and have no qualms with you coming in very close to them.

It all depends on the individual.

You feel like the luckiest person in the world when an animal (and particularly an endangered one) seems to trust you enough to allow you right next to it. And the joy and connections I have felt when swimming with some turtles, dolphins, whales, and one manta ray — sometimes for extended periods of time — are indescribable. The sense of intelligence, impression of trust and, one might say,
the happiness one derives from these encounters can be nearly unimaginable.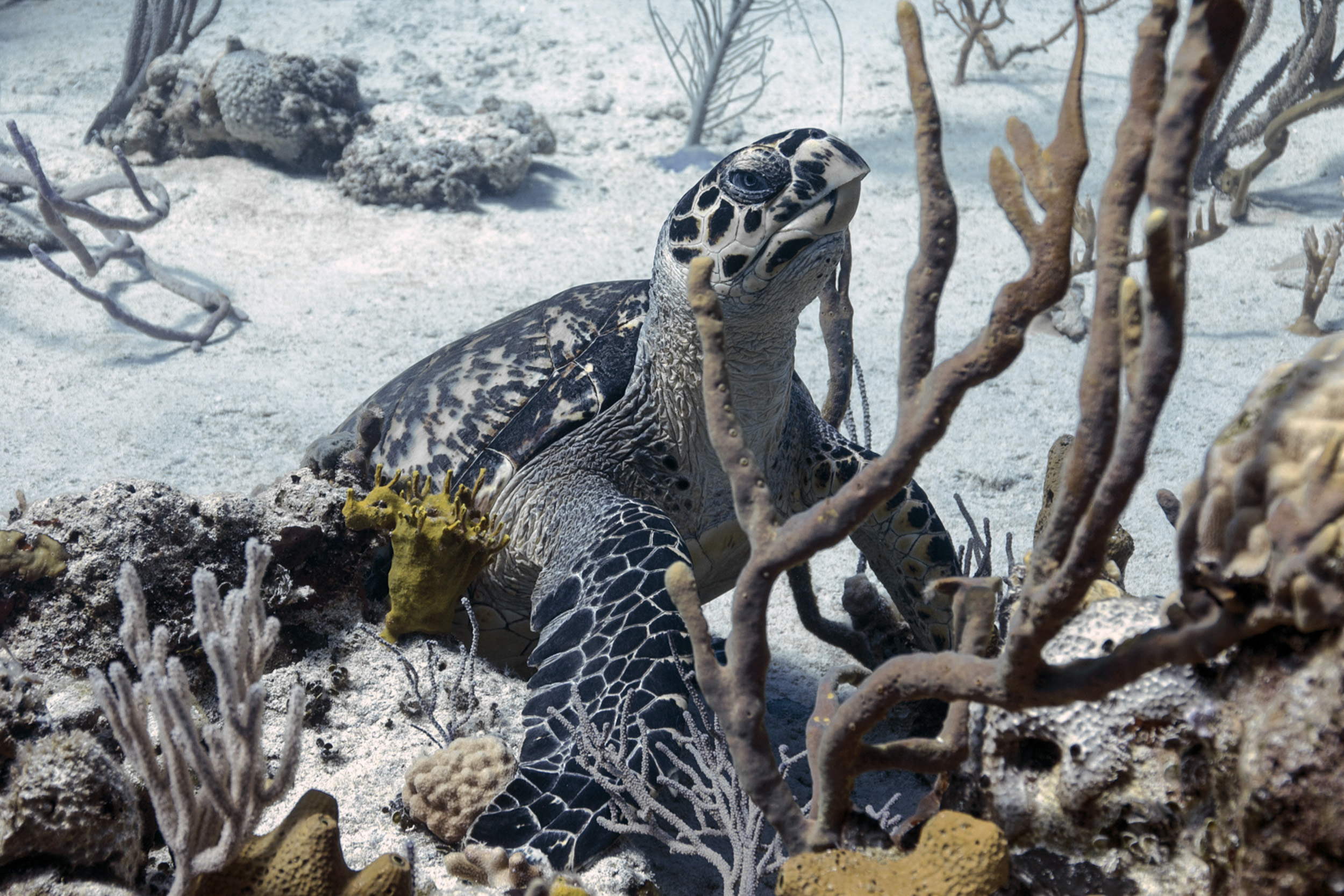 INCREDIBLY FRIENDLY AND "CHILLED" HAWKSBILL TURTLE, A BIT ON THE SMALL SIDE. HIGHBOURNE CAY, BAHAMAS, APRIL 2018

You would not believe how lovely, beautiful and trusting this small turtle was.

I was about to call – quit – a very boring dive with unremarkable coral and precious few fish when, out of the corner of my eye, I saw this
Small turtle rise to the surface for a breath. I approached and rose with it, not sure how close it would allow me.
Next thing you knew I was with this sweet thing for the whole dive – at least 45 minutes – and until I ran out of air.
As in this image she (I always think of turtles as female and sharks as male!) was against a coral head for a few minutes and it seemed
Like she was actually playing with me – as if it were a game, with me watching her and her watching me, and she was staying just far away enough, an obstacle between us just big enough, to make shooting her harder!

I love the way she's resting her flipper on the coral here – and how close it seems compared to her body.

She had a fairly dark shell.

She very clearly trusted my buddy and me, was visibly relaxed, and even started eating just next to us.
It seems very rare for animals, even the more familiar and trusting ones, to snack next to you!
She got in all sorts of dining positions: upside down over her food; diagonal; on the bottom with her head held high…

Another lovely and touching creature I may never forget, photographs I will regularly look at nostalgically
And, hopefully, select from for exhibitions and publications.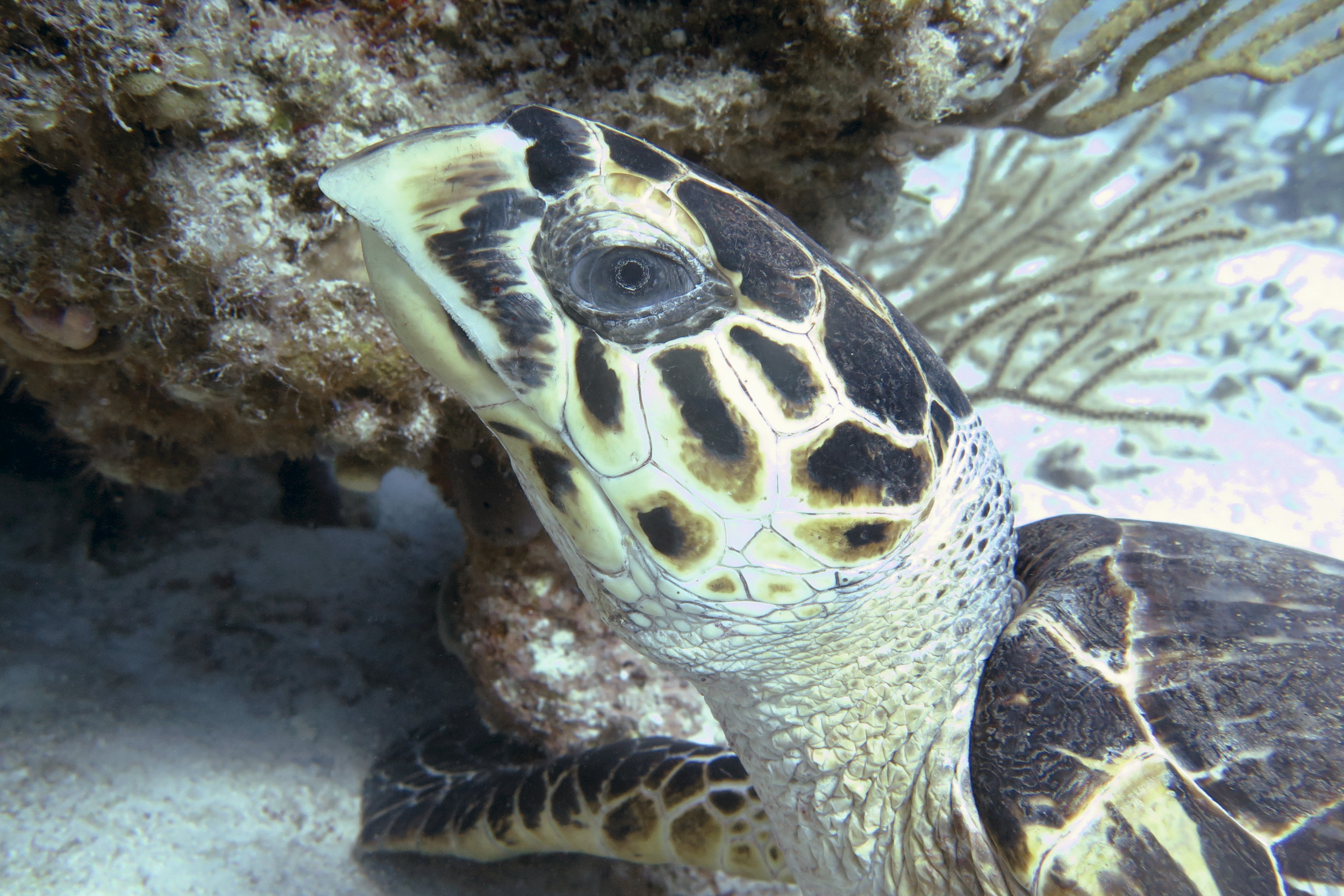 HAWKSBILL TURTLE I SWAM WITH FOR AN HOUR RESTING BY A CORAL HEAD
EXUMAS, APRIL 2014

At the site called The Aquarium again…

Her carapace was beautiful, her eye, seen here, looked like a camera lens, and every second by her side was worth it.

I abandoned my friends John and Eric for this turtle, which Svet had seen earlier and said was very curious.
The Aquarium is very shallow and, aside from a current that can be very strong but wasn't that day,
Very safe. So it didn't seem like the wrong thing to do – to neglect friends in a safe place for an incredible and rare animal
I was unlikely to have another great opportunity with.
I photographed this love for an hour, shooting so often with a Canon G14 – which has a digital delay between shots – that my wrist
And fingers were sore for an hour or more afterwards!

We swam together for a long time, her always in front or next to me. She ate, she swam, she looked at me; my heart melted. My fingers and wrist cramped…

She will not be forgotten… in part also because we see green turtles at The Aquarium all the time (at least 3 are resident there. I have jokingly named them all – the 3 Ms), but we rarely see hawksbills at that site. Also: my friends keep reminding me that I abandoned them on a dive! For a reptile…

I hate it when I remember that six out of seven sea turtle species are endangered.

And I often think of turtles like they're marine mammals (which they're not) because they can be so engaging and they have a sort of wisdom about them.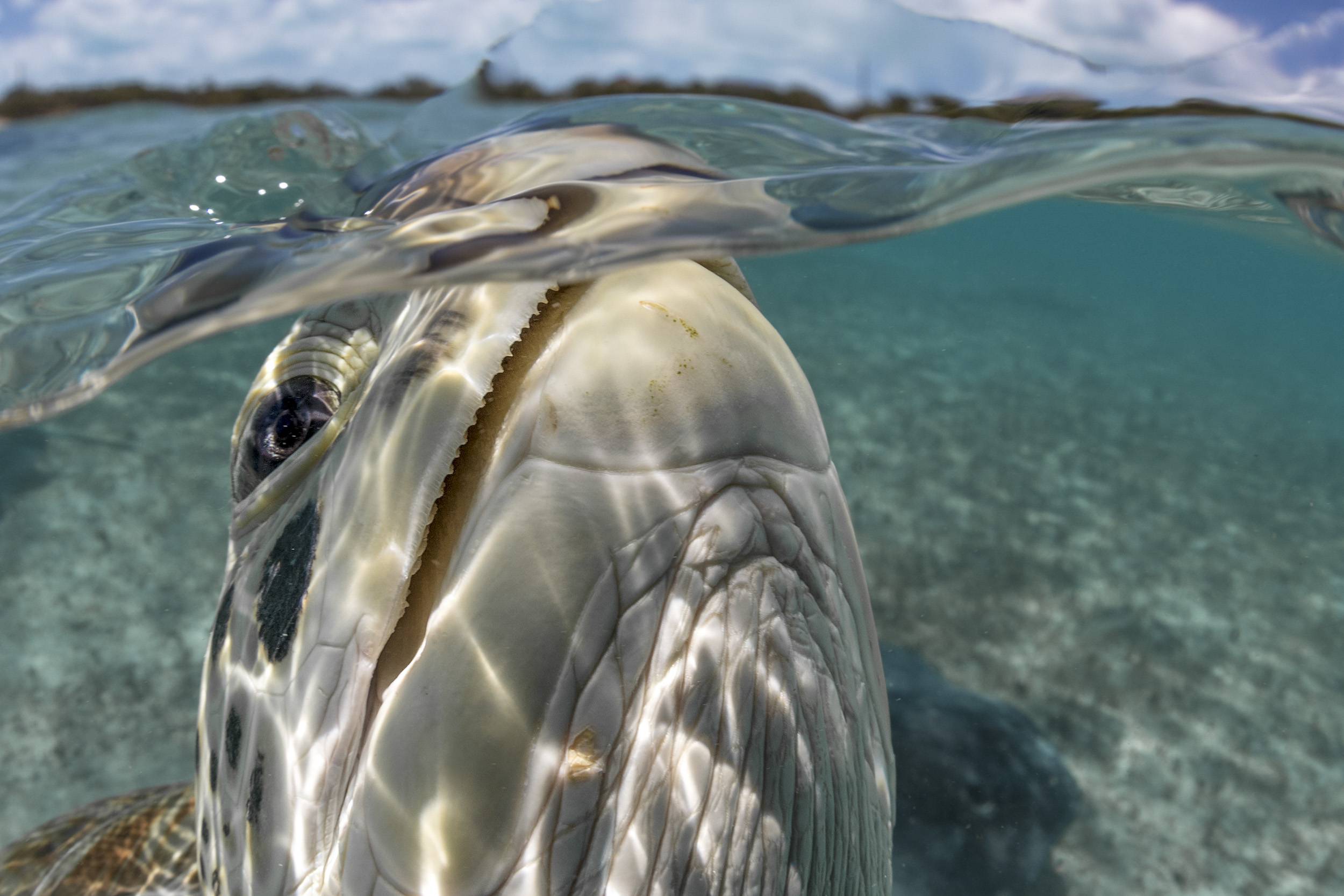 CLOSEUP OF A GREEN TURTLE AT LITTLE FARMER'S CAY, BAHAMAS. APRIL 2017

I love this image and had never seen that green turtles have finely serrated jaws – adapted for a mostly vegetarian diet of sea grasses and algae – before.

Taken at Little Farmers Cay – where they have been feeding turtles, and letting tourists in with them, for some time now.

Although the main feeder guy says a loggerhead turtle has come in to eat on occasion, I have never seen one there.

It is always green turtles. Sometimes many of them… Apparently one time they counted thirteen turtles in the bay.

Most of the time we see five or six. Big fat turtles.

They come very close to you when you give them the conch they are fed.

We always go at high tide because at low tide we kick up too much sand in the water.
The stingrays that are there and also try to get food move the sand, which looks terrible suspended in the water
In photographs, as well.

Very rapid remoras attached to the turtles, jacks and an enormous and funny porcupinefish are in the fray with the turtles
And stingrays as well. They frequently steal food you intend for the turtles.

19 times out of 20 I mess up split level (or "over under") shots.
Either one half is blurry, as above, or there are water droplets (as above!) on the top half of the picture.
If you're lucky the droplets don't interfere too much with the photograph. Sometimes they make for a
More interesting image.
I'm told that some photographers spit on the top of their dome port in order to prevent
Water from attaching to the top half.

I suspect that many of the split-level shots you see are digitally enhanced or altered.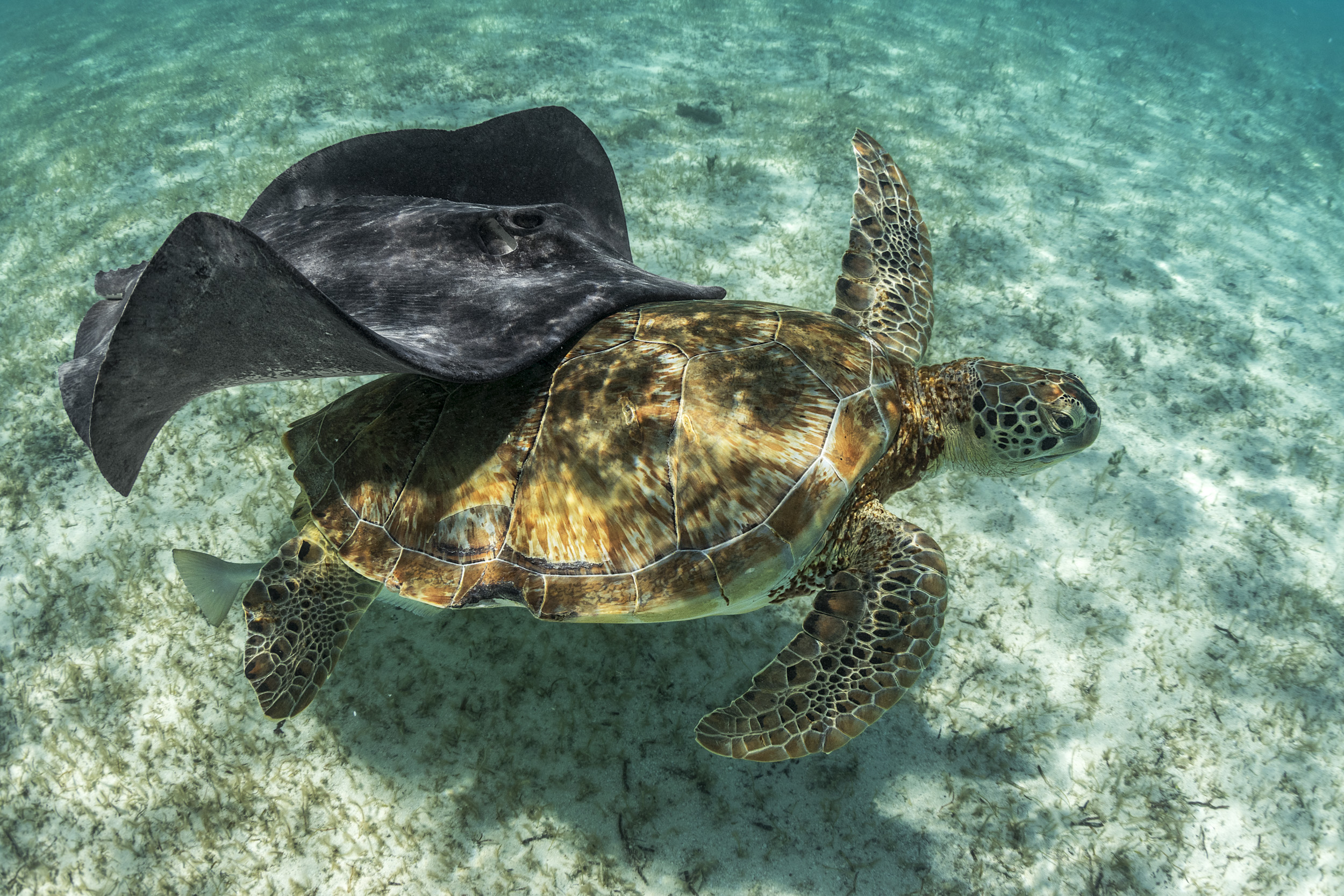 A STINGRAY RIDING A GREEN TURTLE DURING A FEED AT LITTLE FARMERS CAY IN THE BAHAMAS, APRIL 2017

This specific stingray was missing its tail.

I have never seen this behaviour before and, indeed, do not know if – and doubt that – it is a common thing.

The stingray only followed/rode the turtle for a short time. Perhaps it was somehow trying to eat algae
Or something else on the turtle's shell. Or telling it to leave all the food to the ray, pushing the reptile away!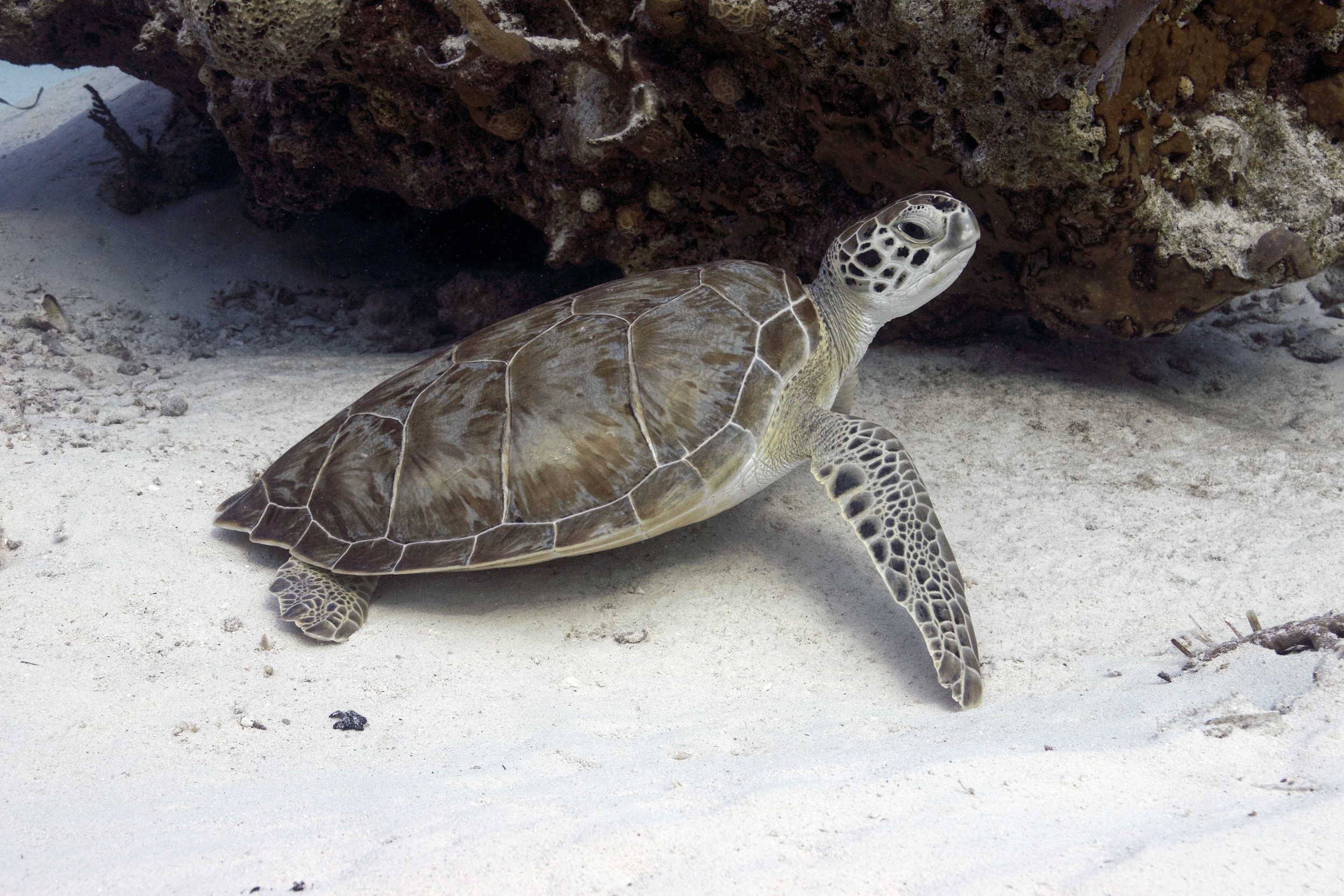 MATILDA OR MONIQUE – A GREEN TURTLE -- NEXT TO HER FAVOURITE CORAL HEAD AT "THE AQUARIUM"! EXUMAS, APRIL 2018

There are three green turtles at that site which we see on nearly every dive there. Two of them are bigger and have very colourful carapaces. The other one is smaller, less colourful and much shier.

I jokingly call them the 3 Ms – Matilda and Monique for the bigger ones, Melissa for the smallest.

Although I can't honestly say I can differentiate Monique from Matilda, nor tell you the 3 turtles are all female,
I will say that one or both of the bigger ones, if you approach slowly enough at first, is very sociable with humans.
Friends and I have been able to spend entire dives by their sides. The Aquarium is only 5 to 10 meters deep in most places,
Allowing for longer dives than usual.

The two bigger turtles are so adorable and I love my time with them so much that I go on that dive at least four times a trip
On about three trips a year.

We have gone to see them at dusk as well as in the daytime, and seen two of them on a night dive – implying that they live entirely
At the site.

The main coral head depicted in this image seems to be the two bigger turtles' favourite spot. We often see one next to it or under parts of it.
Occasionally I've found both of the bigger turtles there at the same time. There are 2 smaller coral heads just adjacent to the big one, and we frequently find them under one of those, lounging and in a position which allows them a rapid exit.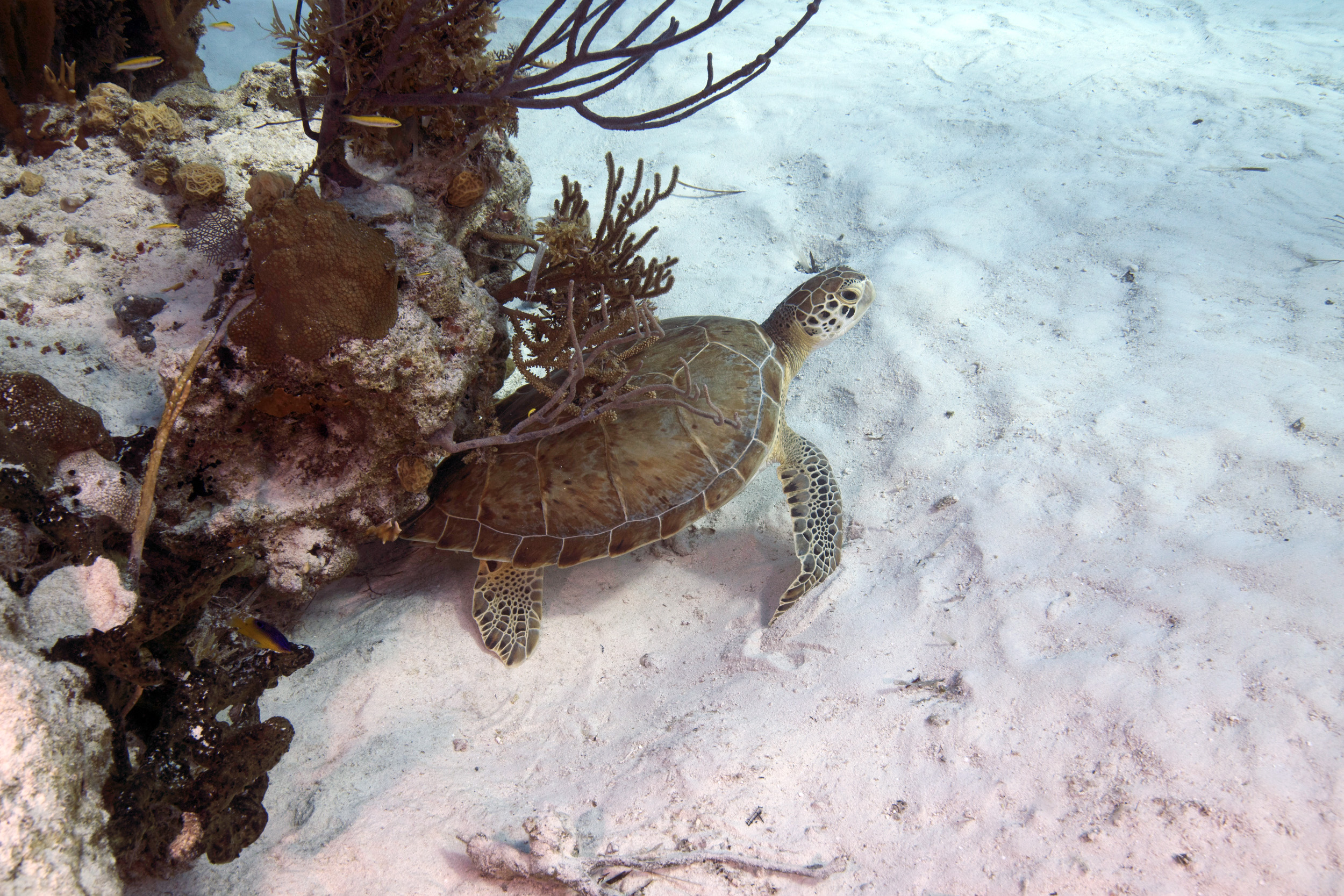 MATILDA OR MONIQUE – ONE OF "MY" BELOVED GREEN TURTLES – BY THE SMALLER OF THEIR TWO FAVOURITE CORAL HEADS AT THE SITE KNOWN AS THE AQUARIUM. EXUMAS, OCTOBER 2017

The turtles I refer to as Matilda and Monique are undoubtedly two of my favourite animals/"models" in the world.

They are joys to swim with, very trusting and calm. And they have some of the most beautiful carapaces I have ever seen.

The turtles seem to enjoy this coral head a lot, and they are always facing the open water, never the coral here.